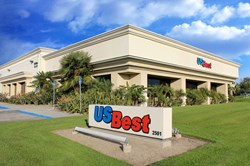 it affects everyone, offends no one, and helps communities become safer
IRVINE, CA (PRWEB) August 20, 2013
With over 2,500 attendees and 270 exhibitors, APCO 2013 is the largest gathering in the public safety communications industry. APCO, which stands for Association of Public-Safety Communications Officials, is the backbone of the 9-1-1 Emergency Call System.
Mark Zaverl and the company he co-founded US Best Repair Service, Inc. have been at the forefront of community issues for some time. Zaverl formed "US Best Repairs" in 2006 as a small default mortgage field services business focused on preserving the values of local neighborhoods by remedying residential blight. Seven years later and after hundreds of thousands of properties cared for throughout communities in all 50 states, US Best Repairs and Mark Zaverl have teamed up with 9-1-1 for Kids, the national charity focused on preventing 9-1-1 misuse and abuse.
Every year in the U.S., over 250 million calls are made to 9-1-1, and nearly half end up being for non-emergencies like prank calls, accidental calls, and calls for information. Resources are wasted, property gets damaged, and people end up hurt or dead as a result of 9-1-1 misuse and abuse. The issue is deemed so important to communities that NFL legend Tim Brown and supermodel turned business mogul Kathy Ireland have joined as International Chairman and Global Ambassador, respectively.
9-1-1 for Kids founder and executive director Elise Kim explains, "Our charity is an appealing cause because it affects everyone, offends no one, and helps communities become safer by educating children about emergency preparedness and proper 9-1-1 usage." She even jokingly adds, "Even if you don't like kids you should support our cause because one day a child could save your life."
Richard McCarthy, Executive Director of the California Seismic Safety Commission, notes how solutions to social issues often are best disseminated by children who learn early what is proper behavior and pass on that knowledge to their families and parents. McCarthy acknowledges how the 9-1-1 for Kids charity, "is the foundation for all disaster and emergency preparedness and response training."
As a personal donor and company sponsor to many of the charity's community education programs, Zaverl will represent his company at APCO 2013 as they honor two 9-1-1 for Kids heroes for their outstanding use of 9-1-1 to aid an emergency. U.S. Best Repairs was given an award earlier in the year for their "outstanding corporate citizenship," something Zaverl explains, "we take seriously and are happy to be involved in such a great cause."
APCO International hosts a number of events and conferences throughout the year designed to provide members and public safety communications professionals with cutting edge educational experiences, effective networking opportunities and showcases of the industry's latest and greatest products and services. The 9-1-1 Heroes Awards Ceremony and press conference are scheduled at 10:30am PST, at the Anaheim Convention Center on August 20, 2013.