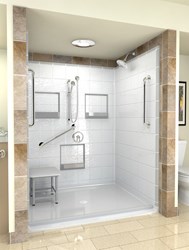 Plywood reinforcement enhances the structural integrity of the roll in shower stall.
New York, NY (PRWEB) August 20, 2013
A specialty supplier of hydrotherapy walk in tubs and wheelchair accessible roll in showers, Aging Safely Baths announces plywood reinforced shower walls. These high grade shower walls are constructed of a 3/8" plywood core that's covered with a composite laminate on both sides. Towards the interior of the shower there's an additional barrier coat and then the gel coat finish.
These exceptionally crafted handicapped accessible showers potentially provide bathers with an easier and safer way to bathe. According to the company, clients have the option to purchase products individually or in packages. Contractors, builders and nursing homes can order roll in shower parts for their specific needs and receive fast shipping to anywhere in the U.S or Canada. Commercial organizations may consider stocking up on items that will eventually need to be replaced such as low threshold shower padded seats, water stoppers, curtains and other items that might benefit maintenance crews to have on hand for repairs.
The composite floors are also very high quality and designed to last for several years. The shower pan construction from the interior out consists of a gel coat finish, barrier coat, composite laminate, metal reinforcement and an integral level support. Several of the shower pans offered by Aging Safely might potentially save contractors time and money on the installation due to the fact that there's no wet set required. Several shower pans do require a wet set which can consist of increased material costs and labor expenses.
Hydrotherapy walk in tubs and wheelchair accessible roll in showers can be installed into most residential and commercial locations. Most of the products offered by the company are the same footprint as a traditional 30" x 60" bathtub and do not require a tremendous amount of space to be installed. According to Aging Safely, customers also have several options for smaller more compact senior bathtubs. Furthermore, the company offers a large selection of many of the largest walkin tubs and transfer baths on the market.
In addition, several of the products come with safety grab bars pre-installed. Customers might also want to consider having grab bars installed in bathing areas and other parts of the home that are difficult to maneuver. It isn't unheard of to install grab bars by the toilet as well. It may provide assistance for someone to raise up and lower down. The company even offers several grab bars that are designer and can come in numerous styles and colors.
Fall prevention can take on a whole new meaning when experiencing the many challenges of aging in place. Fortunately there's numerous technologies available out there that are designed especially for people with disabilities and the elderly.
An accessible bathroom and bathing appliance is almost essential when the bather struggles with fine motor skills or has extreme restrictions on mobility. Parties who would like more detailed information and pricing should visit http://www.agingsafelybaths.com or contact a customer care representative for a no cost or obligation consultation. Representatives will help provide shoppers with detailed information and pricing on walk in tubs and wheelchair access showers. Aging Safely also offers commercial organizations such as hospitals, nursing homes, assisted living homes and care facilities volume discounts on purchases.
Contact Information:
Zach Wennstedt
1-888-779-BATH(2284)
www(dot)Agingsafelybaths(dot)com