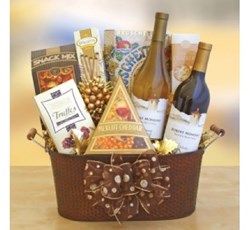 Print EZ wanted to be a part of corporate gifting. And it is not possible to not include wine gifts as part of the offering when one is in the corporate gifting niche.
Monroe, NY (PRWEB) August 20, 2013
Print EZ has just made it much easier to select and send corporate food gifts that are classy. The range that the company has launched provides a large number of convenient options for customers. Gifts can also be customized to suit specific needs. Just by browsing one can send personalized gifts to a large number of corporate partners.
"Print EZ wanted to be a part of corporate gifting. And it is not possible to not include wine gifts as part of the offering when one is in the corporate gifting niche," says Print EZ CEO Morris Rose. Customers can choose a wine gift based on price, occasion and accompaniments. Some of the categories that the company offer include beer gift baskets, champagne gifts, wine and cheese gift baskets, wine and chocolate gift baskets and only wine gift baskets.
Print EZ seems to have thought about the small aspects as well. The wine baskets are packed aesthetically in various kinds of packing material. A customer can choose ribbon covered boxes, cane baskets in various shapes and styles and hampers. The baskets and boxes can also be used as a utility item later. Some of the wine and cheese gifts come with cheese boards and wine sets too.
"At Print EZ, a lot of thought has been put into the design of the product. Not only was each basket, box and hamper designed by a professional designer, the contents of the hampers were chosen by connoisseurs. The cheese or chocolates packed along with a certain wine always go well with the flavor of the wine included. So the customer never has to worry about matching these and then placing an order," says an avid marketer in Print EZ.
Add to the perfection that the company has tried to achieve with the product design, Print EZ has also ensured further customization. Ribbons and tags can be imprinted with the company name and logo to add style, panache and professionalism to the gift. There is however, a minimum order that is required in order to get tag imprinting. Choose a style and send across a hi-res image of the company logo along with the customized that is desired and the company will make sure that it is imprinted perfectly.
Print EZ has not only launched the wine gift section to their online retail site, the company is also planning to launch other kinds of food gifts including chocolate baskets, fruit baskets, organic gifts, spa gifts and more.
Impressing clients and thanking business partners becomes much easier when one can do it as conveniently as this. But Print EZ does not insist that these be bought only as a corporate gift. These wine gifts make a great gift for wine lovers if there are some among friends. There are different kinds of wine gift baskets to suit every budget and occasion too. These make for great wedding gifts, anniversary presents, and holiday gifts and are great to send when wooing someone too.
Get more information about how Print EZ offers and new launches on Food Gifts Baskets at http://www.printez.com/food-gifts.html or call the company at 1-888-246-0635.
To read more about shop-by-price-food-gifts, click here http://www.printez.com/shop-by-price-food-gifts.html.
To read more about gift-baskets click here http://www.printez.com/gift-baskets.html and get regular updates of new offers and deals here.
Print EZ
4 N Main St.
Monroe, NY 10950
(845) 782-5832