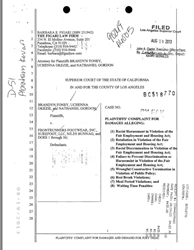 LOS ANGELES, CA (PRWEB) August 20, 2013
Three former employees of the Brentwood shoe store FrontRunners – Brandyn Toney, Uchenna Okezie, and Nathaniel Gordon – filed a lawsuit in Los Angeles Superior Court yesterday. All three plaintiffs are represented by civil rights lawyer Barbara Figari. The lawsuit, case BC518770, was filed at 4:03pm Stanley Mosk Court House, alleges that store manager Niles Bunnag, frequently referred to the African American employees by racial epithets slurs including "nigger," "monkey" and "chicken head." The racial slur "monkey" is an epithet used to degrade African-Americans by comparing them to animals, while "chicken head" is a racial epithet used to refer to either African-American females or unemployed African-American males. Brandyn Toney, the Brentwood store's top performing sales associate, alleges in court documents that he experienced the verbal abuse for three years, during which time he contacted top management and human resources officials requesting that the company make Mr. Bunnag stop harassing employees. According to court documents Mr. Toney, Mr. Okezie and Mr. Gordon felt they had no choice but to resign when no punitive action was taken against Bunnag. FrontRunners, located at 11620 San Vicente Blvd, is an elite athletic shoe store frequented by the likes of Bradley Cooper, Don Cheadle, Reese Witherspoon, Sofia Vergara, Kevin Spacey, Adam Sandler, Julianne Hough, Brooke Shields and Cindy Crawford. The plaintiffs are suing for an undisclosed amount, anticipated to be in the seven figures, and an injunction to stop further alleged racial harassment from occurring.
This release was written and researched by The Figari Law Firm. The Figari Law Firm represents the plaintiffs in this ongoing lawsuit.