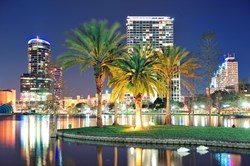 (PRWEB) August 21, 2013
Famous for its entertainment opportunities, Orlando is one of the most visited cities in both Florida and United States. The city is situated in Orange County and holds thousands of tourists every year especially between October and May, because the weather is warmer during those months.
Those who book city hotels in Orlando, may easily attend Roar 'n Soar Festival which is a gathering of some of the world's greatest cars and aviation held every November between Tampa and Orlando. Aside from Walt Disney World, there are also other famous theme parks in Orlando that attracts millions of tourists each year including the Universal Orlando, SeaWorld Adventure Park, Wet N' Wild, Discovery Cove, Gatorland and Holy Land. People may relax in cheap Orlando hotels after exploring the city and its landmarks.
Metin Altun, CEO of otel.com, says; "The peak season in Orlando is approaching; so we decided to make special rates for most famous Orlando hotels. We have great deals on booking comfortable hotels in Orlando. People should check the prices online."
One of the hotels with special rates is Hilton Garden Inn Orlando International Drive North Hotel. The hotel has a central location, close to Universal Studios. After enjoying their day in the city's popular landmarks, people may relax at the Tiki Bar within the hotel or at the fitness center. The other hotel which one can book with a discounted price via otel.com, is Suites Orlando Airport Hotel. It offers a free shuttle to the airport and may be usually preferred by business travelers. The suites have flat screen TV, microwave and fridge for personal use.
Metin Altun declares that those hotels are the top two; there are more to be found on the website of the company.
About Otel.com
Otel.com is a branch office of Met Global, a worldwide travel company which offers both B2B and B2C solutions to its customers. There are more than 20 languages and currencies on the website to make it easy to book. Daily or monthly deals could be found on the website.