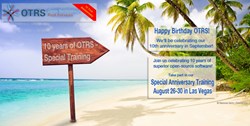 For 10 years now OTRS Group offers service organizations a licencing cost free Help Desk software to boost their service management. This Special OTRS Administrator Training is the best start to get to know OTRS.
Cupertino, CA (PRWEB) August 21, 2013
OTRS Group, the vendor and world's leading provider of the Open Source Service Management software OTRS, is announcing the celebration of its 10th anniversary! The Special Anniversary Training will take place from August 26-30, 2013 in Las Vegas where OTRS experts will show interested users how to use the free Service Management software efficiently in order to boost their customer service. This will include authorization concepts, queue structures, and user administration in the OTRS Help Desk Software as well as the creation of CI classes and Service Asset & Configuration Management with the CMDB from the OTRS IT Service Management Software. In addition to this intensive 5-day course, guests will receive a 10 percent anniversary discount and enjoy a free evening visit to the Cirque du Soleil show. Service Contract customers with OTRS Group will get 50 percent off! Interested users can find more information and register here: http://www.otrs.com/en/company/events/10-years-anniversary-special-otrs-administrator-training-in-las-vegas/.
With the target to answer customer request in the area of IT Service Management centralized, structured into departments and even with a small number of service staff more efficiently, the service management software OTRS was born in 2001 as Open Source project in Germany.The increasing demand for implementation or customization of services led to the founding of OTRS GmbH. In the years following, the software vendor and world's leading service provider of OTRS earned more than one success with the founding of its subsidiaries in the USA, Mexico, the Netherlands, Malaysia, and Hong Kong as well as an ever-growing customer base of more than 110,000 organizations using OTRS worldwide. Each of these organizations have been able to consolidate their service operations into a single unified service management software, OTRS, saving costs and resources – among them well-known enterprises like NASA, IBM, Amnesty International, Siemens, Lufthansa, Commerzbank, and Nokia. In addition, OTRS is available in 32 languages.
Download OTRS for free at http://www.otrs.com/en/open-source/get-otrs/ and learn from the best how to implement and configure it for your own organization at the Special Anniversary Training in Las Vegas.
Register now and get 10 percent off!
About OTRS Group
The OTRS Group is the vendor and world's leading provider of the open source help desk software, OTRS Help Desk, and the open source IT Service Management (ITSM) software, OTRS ITSM. The corporation consists of OTRS AG and its five subsidiaries: OTRS Inc. (USA), OTRS S.A. de C.V. (Mexico), OTRS B.V. (Netherlands), OTRS Sdn. Bhd. (Malaysia), and OTRS Ltd. (Hong Kong). As of 2009, OTRS AG is listed in the Entry Standard of the Frankfurt Stock Exchange.
The OTRS product suite includes the OTRS Help Desk software and the ITIL® V3 compliant IT service management (ITSM) solution OTRS ITSM, as well as an associated iPhone App. OTRS is available in 32 languages and over 110,000 organizations worldwide use OTRS to consolidate their service operations into a single unified solution, saving costs and resources. OTRS Group is the source code owner and offers businesses of all sizes service support, consulting, and software development. The service portfolio consists of process design, implementations, customizations, Application Support, and Managed OTRS Services. Key customers include industry leaders such as NASA, IBM, Siemens, and Nokia. OTRS is used by 60 percent of DAX 30 companies.
Contact
OTRS Group
Josephine Guenther
Norsk-Data-Straße 1
D-61352 Bad Homburg
Germany
Phone: +49 (0)6172 681988-26
Fax: +49 (0)9421 56818 18
Email: pr-marketing(at)otrs(dot)com
Internet: http://www.otrs.com