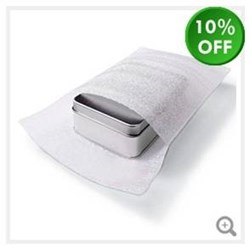 Davpack is the first company to allow customers to order custom printed boxes without the need for an initial quote
(PRWEB UK) 22 August 2013
As a result, Davpack has just added another 10 items to its website, each of which the company believes will prove more than popular with its customers and offer practical solutions to the kind of dilemmas faced by businesses striving to stay ahead in a fast-paced and competitive economic environment. And to celebrate, Davpack is marking their introduction to the range by allowing customers to try out these new packaging products with 10% off the normal price until the end of August.
Two of these items have actually been available for order for years, but can now be bought for the first time directly through the website. Davpack is the first company to allow customers to order custom printed boxes without the need for an initial quote, and has also now made egg box foam profiles to match its Econopost postal boxes range easy to order.
Also added are five extra sizes of Davpack's own gold padded envelopes, which are up to 25% cheaper than branded versions, even before the new offer!
Then there variants on existing themes, namely pallet-sized cap and sleeve cardboard boxes - previously only available with a securely attached pallet - and clear polythene bags with a pre-printed safety warning.
But there are, of course, some totally new products: Sealed Air's Instapack Quick RT foam packaging self inflates inside a carton, wrapping itself around the contents to provide soft, gentle and reliable protection; rolls of perforated bubble wrap speed up packing operations with easy-to-tear sections; varigauge plastic carrier bags in two sizes and 17 stunning colours; beautifully coloured shredded tissue to add a real sense of luxury to retail or gift packaging; and light, gentle and totally non-abrasive foam bags.
Davpack's Managing Director Barney Byfield is excited about the new ranges: "Davpack has always been dedicated to providing the finest choice in quality packaging materials at competitive prices, supplied from stock with exceptional levels of customer service."
"These new options give our customers even more options and much greater flexibility. They can also save time and money, by providing faster ways of packing, new ways of protecting the contents and smarter ways of promoting your business and enhancing the look of your product."
"And the really good news is that we're not finished yet! There are several more exciting new products lined up to be made available over the next few weeks; full details will be released as and when they happen, but I can tell you that there are some great new gift packaging ideas, more large letter and small parcel category postal boxes and some new, heavy-duty edge and corner protection."
For more information on the ten new packaging products available from Davpack, and to take advantage of their 10% offer, call their Customer team on 01332 821200 or visit their website at http://www.davpack.co.uk .