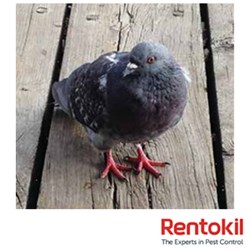 The biggest risk from birds come from their droppings, a medium which, if inhaled, can cause serious - even life threatening - illnesses.
Cape Town, South Africa (PRWEB UK) 22 August 2013
Pigeons: feathery friends or rats with wings? Most people are inclined to think of pigeons as feathery friends, and it's for that exact reason that the structural damage and health risks caused by pest birds are often underestimated. Birds, when allowed to roost, perch and nest unrestricted can be a menace to commercial properties. Their droppings may put colleagues' health at risk, not to mention deface buildings and contaminate foodstuffs, and their nests provide a breeding ground for other pests and diseases.
The most common "pest" birds in South Africa are the feral pigeon, the sparrow, the starling and some of the gulls of the Larus species. The risks associated with having birds in and around your commercial premises have less to do with the type of bird than with the number of birds. A single pigeon is unlikely to cause a major problem, but an entire flock of them nesting in the roof cavity of a building can pose serious health risks, as well as create a costly maintenance issue if proper bird control is not put in place.
"The biggest risk from birds comes from their droppings. Bird droppings are the medium for the growth of a fungus which, if inhaled, can cause serious - even life threatening - illnesses" says Nathalie Leblond, Marketing Communication Manager at Rentokil pest control. Bird droppings are also extremely corrosive and can cause significant structural damage if found in large enough quantities. Ongoing cleaning to remove droppings and maintenance to repair the damage they cause can become extremely expensive for property owners. Sparrows and pigeons also carry bacteria such as Salmonella, which causes food poisoning, and Ornithosis, a disease similar to pneumonia or flu, which makes it even more imperative to get rid of pigeons and other birds that nest and roost on your property.
Both the Prevention of Cruelty to Animals Act and the Nature and Environmental Conservation Ordinances protect bird life and limit bird control methods available. The most common bird control methods used therefore involve deterring birds from their regular perching, roosting or feeding places with gel, spikes, netting and other deterrent devices such as the Eagle eye unit which mimics the flash of a predator bird's eye.
Remember that it is not enough to just get rid of birds. It is also crucial to also exterminate all parasites found in their nesting areas and to thoroughly disinfect the site after the birds have moved on. "Customers are unlikely to notice too much bird activity now, towards the tail-end of winter, but as the weather moves into spring, birds will start nesting and laying eggs. Nesting materials can cause serious problems in gutters and drains, and bird nests are also breeding grounds for other incidental pests such as fleas, ticks and lice which can migrate indoors" says Mario Pluke, Technical Manager at Rentokil pest control.
"Treating a bird infestation is complex and needs to be undertaken by a trained professional, as there is no one-size fits all solution," says Pluke. "The area would need to be carefully surveyed at different times of the day to establish where and when the birds are perching and nesting, and then to determine the best bird proofing methods applicable to the premises, using a combination of bird netting, spikes, gel and other sound and light bird deterrent devices." Rentokil does not support the reckless killing of birds by any means and applies humane bird control techniques only.
About Rentokil-Initial: The Rentokil Initial group specialise in pest control, hygiene services and interior landscaping for businesses across the globe. Using leading-edge, environmentally-friendly technology, their experts deliver a wide range of tailored services to businesses of all kinds. Read more about Rentokil's Bird Control Service, or to arrange a free survey of your business, contact Rentokil Initial on 0800 736 865. For the lighter side of pest control, visit our blog.