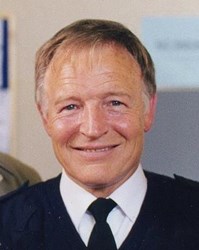 Never one to take things easy
London (PRWEB UK) 21 August 2013
Having spent over fifty years on stage and screen, actor Allan O'Keefe has just launched his debut novel, Stone, a contemporary horror thriller. Allan started his career in the British television series The Villains then went on to an eight year run as PC Fred Render in the highly successful police drama Z-Cars. More recently he has appeared in Eastenders, Last of The Summer Wine and Emmerdale.
"We are very pleased to welcome Allan as one of our authors," said Claire Ashton, Netherworld's commissioning editor. "Stone is a fantastic romp of a novel with all the elements of good old fashioned action and horror."
Allan is currently undergoing chemotherapy for cancer which made the final push to publication, always a stressful time for an author, particularly difficult in his case. However with the tenacity he has displayed throughout his illustrious acting career he battled between numerous hospital visits to tie up the last details of the book in time for a late summer launch.
'Stone' is a complex thriller with a strong horror element concerning a group of friends who disturb an evil presence whilst diving to wrecks off the Scottish coast. With shades of Dan Brown type conspiracies and Stephen King horror, the book is sure to find a welcome readership from a diverse base of fans.
Now with 'Stone' on its way to the printers and a bit more time to relax with this particular round of chemotherapy nearing an end he still refuses to take time out and rest. He is already hard at work on his next novel.
Stone is available now through all good bookshops as a paperback and online as an eBook in all major formats.
Netherworld can be contacted via their website at http://www.netherworldbooks.com