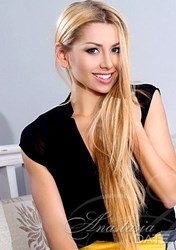 (PRWEB) August 22, 2013
Anastasia web is celebrating this week. The company recently received news from a number of couples that have found romance and love as a result of membership with the exclusive online dating service. The company announced the happy news in order to share it with other worldwide members.
It seems that international love is blossoming all over the world thanks to the hard work and dedication of the entire Anastasia web team. The company is well known for its exclusive international dating service, which provides a high quality platform for successful people to connect with each other and find romance.
The happy news of love and romance was sent to the company by the couples, who reported they were delighted with the service and happy to have found love thanks to Anastasia web. Over four million members log on regularly to connect with the charming and successful people who are available on the site.
Anastasia web commented that when news of blossoming romance reaches them it is always a time to celebrate. The company works hard, providing a 24-hour service to ensure every member can access their profiles and enjoy all the functions available to them.
Anastasia Web has a reputation for providing high quality and exclusive dating and is known as a leading light within the online dating industry. Over recent months the company has experienced huge growth, which it attributes to positive reviews and praise it receives from existing members.
Members come from all over the world but a large majority are highly successful business people and entrepreneurs from America. This high caliber of member is another reason why so many thousands of people are rushing to join the exclusive dating service. Anastasia web is dedicated to maintaining its status as one of the most successful and exclusive services.
The company is proud of its reputation and intends to work hard to keep giving all members the high level of quality they expect. The Anastasia web team is made of highly qualified and experienced professionals. Collectively, they are experts in web development and marketing. The company is a longstanding force within the online dating industry and many of its innovations have been replicated by other companies.
But no other company has managed to create the package that AnastasiaDate offers to its members. The company works hard to ensure it is always improving the service and that every member can continue to enjoy their online dating experience.
The international flavor of the service, its exclusivity and the company's attention to detail is why AnastasiaDate continues to grow in popularity. The company has sent many congratulations to the happy couples and wishes them every success in the future. Many more couples are expected to find love in future because of the innovations of AnastasiaDate.
About AnastasiaDate
AnastasiaDate is the leading international dating service that facilitates exciting and romantic companionship with beautiful and interesting women from all over the world. Founded in 1993 by a Russian-American couple, AnastasiaDate now has over 4 million international users and attracts more than 10 million online visits monthly. Additionally, over 1.5 million conversations are exchanged onsite daily. AnastasiaDate is committed to member safety, customer satisfaction and the ongoing pursuit of innovation. Headquartered in Moscow and New York with additional representation in every country it touches, AnastasiaDate provides a high level of customer service to a worldwide clientele. AnastasiaDate users are able to communicate across a variety of top-notch multimedia platforms, including Video Chat and a mobile app for Android devices available in the Google Play store.