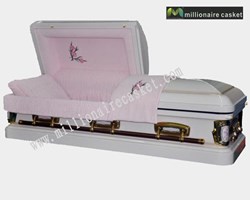 (PRWEB) August 20, 2013
China casket manufacturer MillionaireCasket.com has recently launched its promotion of caskets wholesale (visit http://www.millionairecasket.com/ for more details). Now, all the casket distributors around the world can get a discount, up to 29% off, when purchasing metal or wood caskets from Millionaire Casket.
The company is one of the leaders in the casket industry. Each of its caskets come with a special locking system that makes the casket difficult to open once it is locked. Moreover, the company aims to provide a one-stop funeral solution for its clients worldwide, and its products cover metal caskets, solid wood caskets, cremation caskets, veneer caskets and more.
"We are committed to providing premium quality products for our clients so they can be assured that they get what their payments deserve. The caskets are absolutely 100 percent manufactured with the high-quality craftsmanship and materials. People can call us for details," says the CEO of the company.
About MillionaireCasket.com
MillionaireCasket.com is a leading China casket manufacturer, and focuses on the business of casket wholesale. The standard quality control policy is strictly applied here, and a third party quality assurance is also available.