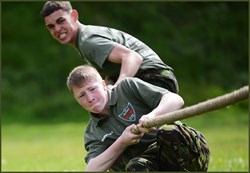 The course has given young people a real opportunity to hone their skills and improve their chances of reaching their goal of joining the Armed Forces.

Major General M S White CBE JP, HM Lord-Lieutenant
(PRWEB UK) 22 August 2013
The Local Government Association (LGA) said that the number of young people starting one of the 35 nationally run skills or employment programmes was eight percent lower than in 2010. It added that between them, the schemes spanned 13 different age boundaries, cost £15bn a year and its complexity was a barrier to its success. They could be more effective in tackling youth unemployment.
Last week, the Office for National Statistics said youth unemployment, among those aged 16-24, had increased by 15,000 in the three months to June to reach 973,000 , despite a fall of 4,000 in the overall unemployment figure.
Huw Lewis, Managing Director oh The Military Preparation College, who has 14 years' experience of working with young people from a variety of backgrounds said: "These figures are not particularly encouraging. They represent a waste of the potential of huge numbers of young people. With the right direction, these youngsters are able to excel in many vocational areas. School-leavers often don't consider the benefits of a career in the Armed Forces. However, it represents a viable long-term employment opportunity with structured vocational progression and boasts a wide variety of personal development schemes."
There has been much in the news about Armed Forces numbers being reduced. However, the Armed Forces are still actively recruiting, giving young people the opportunity to access over 200 vocational routes. Many transferable skills developed in the Armed Forces are equally useful in civilian life. The core values instilled in military personnel make them an attractive proposition for civilian employment, once they leave the military.
It is common for school-leavers to require a boost in their confidence and fitness in order to pass selection, which may deter them from considering the Armed Forces as a possible career route. The Military Preparation College has been providing such a service for the last 14 years, during which time it has helped over 1,750 young people to embark on a military career. Approximately 150 school-leavers joined the existing 600 young people on its courses this summer.
Whereas many schemes aimed at helping young people into work are struggling with their levels of success, the Military Preparation College has been steadily expanding since it began offering its programme in 1999, and is now able to provide vocational assistance in 14 locations throughout England and Wales. As well as military training, the College is expanding its provision of apprenticeships and sports programmes in order to satisfy the demand for vocational training. The Chartered Institute for Personnel and Development reported last week that over half of young people would take part in an apprenticeship scheme if one was available. A new Operations Manager, based in the Cardiff headquarters, has been taken on to ensure that the College is able to meet the increased demand for its courses.
In times when many young people are struggling to find a scheme which is successfully improving their vocational prospects, it might be worthwhile considering the Armed Forces as the way forward. Alternatively, apprenticeships are now highly regarded by young people and are an excellent way of enhancing your career prospects.
About The Military Preparation College:
The Military Preparation College was formed in 1999 by its Managing Director, Huw Lewis MBE and prepares young people for a career in the Armed Forces or other vocational pathway. It concentrates on developing physical fitness, improving academic ability and enhancing personal qualities. It currently trains over 750 learners in 14 locations throughout England and Wales. For more information, please call 08442 438438.