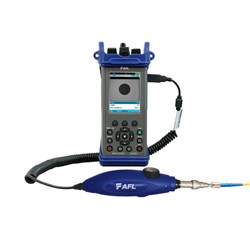 Lowell, MA and Spartanburg, SC (PRWEB) August 22, 2013
With its high dynamic range, short dead zones and new advanced event analysis algorithm, AFL's M310 Data Center OTDR is the only solution in the industry which addresses the testing challenges associated with data center and enterprise LAN/WAN networks. The advanced algorithm minimizes missed and false events and ensures accuracy and reliability in event analysis, taking advantage of short dead zones in data center applications.
"If an OTDR's event analysis is inaccurate, then documenting networks will be flawed and troubleshooting networks will be impaired, increasing downtime," commented Mark Miller, product manager at AFL. "The M310's event analysis successfully deals with difficult situations found in data centers such as short jumper cables and closely-spaced events. This ensures the health of your network."
Data center optical network configurations, such as Top of Rack (ToR) and End of Row (EoR), contain numerous closely-spaced sections, jumper cables, patch panels and cross connects. Through groundbreaking analysis techniques, the M310 accurately finds and measures the events on a network without increasing the likelihood of chasing false events. Coupled with the M310 Touch and Test® interface, users can confidently obtain accurate locations and measurements of all events, without the confusing introduction of false events. No special knowledge, training or test setups are required to achieve these results, saving users both time and money.
With an integrated Optical Power Meter (OPM) and Visual Fault Locator (VFL), plus inspection functionality using the DFS1 Digital FiberScope, the M310 provides all Tier 1 and Tier 2 testing requirements. The Test Results Manager 2.0 (TRM® 2.0) companion software provides the capability of viewing and editing test results on a PC, and creating certification reports.
For additional information about AFL, its products and services, visit http://www.AFLglobal.com.
About AFL
AFL provides industry-leading products and services to the electric utility, broadband, communications, OEM, enterprise, wireless and transit rail markets as well as the emerging markets of oil and gas, mining, nuclear, avionics, medical, renewable and intelligent grid. The company's diverse product portfolio includes fiber optic cable, transmission and substation accessories, outside plant equipment, connectors, fusion splicers, test equipment and training. AFL's service portfolio includes market-leading positions with the foremost communications companies supporting inside plant central office, EF&I, outside plant, enterprise and wireless areas.
Founded in 1984, AFL is proud to offer engineering expertise, exceptional products and reliable service that help our customers improve their critical and electrical infrastructure. AFL has operations in the U.S., Mexico, Europe, Asia and the South Pacific. The company is headquartered in Spartanburg, SC, and is a wholly-owned subsidiary of Fujikura Ltd. of Japan.