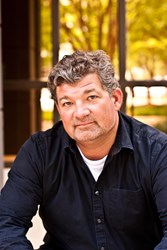 "Charlotte is becoming a true retail epicenter, but there are surprisingly few opportunities for marketers and retailers to come together in a neutral environment and share insights, challenges and successes."
Charlotte, NC (PRWEB) August 21, 2013
Theory House, a leading retail design and shopper marketing agency, announced today that Jonathan Luther, Founder of JJ's Red Hots, will present at the upcoming Retail Insights Southeast luncheon the agency is presenting on September 17, 2013. Registration is online at http://www.retailinsights.eventbrite.com.
JJ's Red Hots is a fast casual hot dog and sausage restaurant concept that launched on July 4, 2012 in Charlotte, NC. A second Charlotte location opened just last month. Luther has over 20 years of experience in building restaurant concepts and creating multimedia in-store customer experiences for Fortune 500 retail brands. He previously led the Media Architecture group for Muzak, the world's leading provider of in-store media. Prior to working at Muzak, Luther designed, built and managed restaurant concepts, including a quick service Mexican grill concept in Philadelphia called Cool Peppers, and a fast casual American grill concept called Mike's Warehouse Grill, part of Mike's Famous Harley-Davidson.
Now in its second year, Retail Insights Southeast is an educational and networking luncheon for brand marketers and retailers in the Southeast. The event has attracted retailers like Food Lion, Lowe's, Family Dollar and Ingles Markets, brands like Coca-Cola, Clorox, Electrolux, Unilever, Rubbermaid, RSC and PepsiCo, and supporting vendors like MaxPoint, Valassis and Illumination Research.
This year's event will be held on September 17, 2013 at Byron's South End in Charlotte. In addition to Luther, Jocelyn Wong, CMO and SVP of Marketing at Family Dollar will present the keynote. Presentations from MaxPoint and Google are also on the program. Event details and registration are online at http://www.retailinsights.eventbrite.com.
"This event brings together hundreds of talented folks who share a passion for retail, and Jonathan brings a local perspective that our audience will appreciate," says Jim Cusson, president. "Charlotte is becoming a true retail epicenter, but there are surprisingly few opportunities for marketers and retailers to come together in a neutral environment and share insights, challenges and successes."
About Theory House
Theory House is on a mission to build North America's next great retail brands. The Charlotte agency helps retailers and brands thrive through a complete suite of shopper marketing services that connect with shoppers along the consumer decision journey. These services include research and insight, branding and design, retail activation, and digital engagement. More information about Theory House and its approach to shopper marketing can be found at http://www.TheoryHouse.com or by contacting Jim Cusson at 704-665-0714.