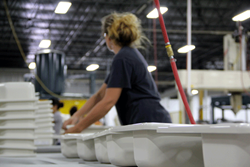 The new location allows us to collaborate more closely with customers on product development.
Elkhart, Indiana (PRWEB) August 20, 2013
Lippert Components, Inc. (LCI™), and its sister company Kinro, Inc.®, collectively one of the largest suppliers of plastic bathroom and kitchen products to the RV and manufactured housing industries, have moved RV thermoforming plastics production from a Waxahachie, Texas, facility to Elkhart, Ind. This move will allow their Plastics Division to grow, while also opening up space for the Texas facility to begin axle production.
"It was a natural move for us to relocate a portion of our thermoforming manufacturing to Indiana," said LCI President Scott Mereness. "The new location allows us to collaborate more closely with customers on product development. Further, we will use the open manufacturing space in Texas for axle production. Now both of these product lines have room to grow and are strategically positioned closer to the customer base they will primarily serve."
The Plastics Division moved into a newly outfitted 103,000-square-foot facility in Elkhart. The new Plastics Division facility produces CSA-certified Better Bath® product line of bathtubs, shower receptors, tub and shower wall surrounds and kitchen sinks; as well as wheel-well liners, storage boxes, panels for fifth-wheel fronts and slide-out panels.
The Texas facility should begin producing axles for utility and horse trailer manufactures in Texas, Oklahoma and surrounding areas in early September. The Texas facility will also continue manufacturing windows and thermoformed products for other industries that LCI and Kinro serve.
General Manager Bill Mitchell said, "Our decision to move production of our plastic RV products to Elkhart is another example of our commitment to continually improve and meet customer needs. We're excited to begin producing axles for customers in the space freed up from the move."
About Lippert Components™:
Lippert Components, Inc. (LCI™) and Kinro, Inc., its sister company, subsidiaries of Drew Industries Incorporated (NYSE:DW), are industry leaders in a broad line of products dedicated to improving the mobile lifestyle. LCI and Kinro supply a broad array of components for RVs, manufactured homes, modular housing, truck caps and buses, as well as for trailers used to haul boats, livestock, equipment and other cargo, including chassis, fabricated steel chassis parts, slide-out mechanisms, axles, upholstered furniture, mattresses, windows, doors, leveling and stabilization equipment, suspension enhancement products, electronics, thermoformed products, awnings and aluminum extrusion products.
Lippert Components, Inc.
3501 County Road 6 East
Elkhart, IN 46514
574-535-1125