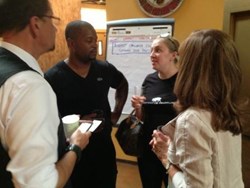 This was an ideal environment to connect with and learn from food entrepreneurs.
Evanston, IL (PRWEB) August 27, 2013
Now We're Cookin', a culinary center in Evanston, hosted a variety of Food Entrepreneurs, mentors and business development experts at a Food Networking event. Businesses ranged from pre-launch to start-ups to established businesses looking for growth. Nell Funk, owner of Now We're Cookin' said, "Successful Food Business launches are difficult - this is another effort on our part to help businesses collaborate for growth, new business ideas and connections."
Included in the gathering was Paul Zalmezak, from the City of Evanston's Economic Development department, and experienced Food business executives who comprise a mentoring panel for Now We're Cookin's food business clients.
A number of participants brought samples to taste and critique - ranging from gelato to chocolate candles to beer cheese and a variety of sweet and savory offerings. Also included were very flavorful South African rusks- a product similar to biscotti but less sweet.
The networking session was such a success that it will be repeated; the next one will be in October. Contact Now We're Cookin' for details: 847-570-4140.
Now We're Cookin' is a culinary center promoting culinary entrepreneurship and innovative culinary events. Its commercial kitchens are home to small culinary enterprises and host to the new Food Business Incubator program which is structured to accelerate the progress of food business start-ups. In the exciting demonstration kitchen, Now We're Cookin's team of talented chefs conduct a wide range of cooking classes, host private parties and events as well as corporate team meetings, schedule celebrity chef demonstrations and welcome film/video production teams.