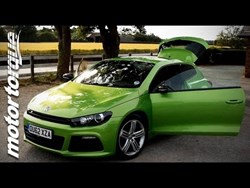 Liverpool (PRWEB UK) 22 August 2013
Its latest review showcases Volkswagen's latest coupe offering: the Scirocco R. The Volkswagen Scirocco R certainly has road presence with its sporty and dynamic look, especially in this head-turning green. The model also really impresses with its great sounding engine and smooth drive.
There's no doubting that the Scirocco R is a fun car to drive and is sure to make an impression on any car enthusiast.
Prices for the 2.0-litre petrol model start at £27,105, with the Scirocco competing with rivals such as the Renault Megane Renaultsport and the Seat Leon Cupra R. The video reflects upon the Scirocco's many features and is tested on practicality through to performance.
Watch the latest review to find out what MotorTorque Editor Simon McBride thinks of the striking Scirocco R.http://www.motortorque.com/videos/new-car-reviews/volkswagen-scirocco-r-review-22997.aspx
Ends
Contact MotorTorque:
Simon McBride
Editor
MotorTorque.com
1st Floor Beetham Plaza,
25 The Strand,
Liverpool,
L2 0XJ
Tel: +44 (0)844 445 7862
Email: simon(dot)mcbride(at)motortorque(dot)co(dot)uk