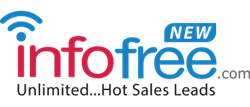 ESPNews is the perfect venue to share our message with busy sales professionals and entrepreneurs who are looking to stay updated on their favorite teams while looking for ways to grow their business. - Vin Gupta, founder of infofree.com
San Mateo, CA (PRWEB) August 20, 2013
Today, infofree.com, the home of unlimited sales leads and mailing lists for small-business owners, announced a major television advertising campaign that will launch Wednesday, Aug. 21 on ESPNews. The 30-second spot promotes infofree.com's $1 weeklong risk-free trial and is scheduled to air 20 times that day during the sports channel's most popular programming, including "Mike & Mike" and "SportsCenter."
"We're taking an aggressive approach to advertising our product because we want sports fans across the nation to know infofree.com is the best sales productivity tool available on the market today," said Vin Gupta, infofree.com founder. "ESPNews is the perfect venue to share our message with busy sales professionals and entrepreneurs who are looking to stay updated on their favorite teams while looking for ways to grow their business."
The ESPNews ad blitz will be followed by similar campaigns on other key TV networks. The campaigns come as infofree.com marks the start of its third year in business and embraces its rapidly expanding influence in the sales leads industry. The company's revolutionary services provide clients with unprecedented access to 300 million business and consumer listings. All told, more than 100,000 users have turned to infofree.com since 2011 to find new customers and enhance their businesses' bottom line. On the horizon are additional value-added services, including a customer relationship management (CRM) module.
This month, infofree.com is in the midst of a limited-time offer of $599 for a new two-year subscription – a 50 percent discount off the regular monthly price. New one-year subscriptions are available for $359 – a 40 percent savings.
One- and two-year subscriptions to infofree.com include these features:

Unlimited search, select and view of sales leads, with 15,000 downloads per year
More than 200 databases to create targeted lists
Unlimited mapping through Google Maps
Print or download of postal mailing and email marketing lists
Free email marketing through JangoMail.com
To learn more or to subscribe, call (877) 448-0101.
Visit http://youtu.be/X7_Ti0__yyY to view the commercial.
About: infofree.com is revolutionizing the sales leads and mailing list industries by providing unlimited search, view and download of marketing information. For a low, flat rate, users can access hundreds of specialty databases with the leads they need to increase their sales productivity and grow their businesses. Content is compatible with the following platforms: Oracle CRM, Salesforce CRM, Microsoft CRM, Nutshell CRM, Goldmine CRM, Sage ACT! CRM, Highrise CRM, Zoho CRM, NetSuite CRM, SAP CRM, Constant Contact, RightNow Technologies, Responsys, Vertical Response and Dun & Bradstreet.