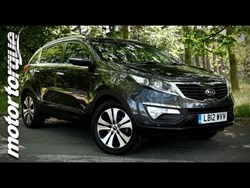 Liverpool (PRWEB UK) 22 August 2013
The Kia Sportage is a crossover SUV, available in 2WD and 4WD variants. In the video review, the Sportage gets compared to its rivals the Ford Kuga, Skoda Yeti, Nissan Qashqai and Range Rover Evoque.
The panoramic roof and cabin gadgets get put to the test in the appeal rating, while boot space comes out on top when compared to the Sportage's rivals. MotorTorque Editor Simon McBride highlights the Kia's great mileage and emission rating.
Although not a perfect 4x4, the Sportage is a great soft roader and is popular with families for a reason: plenty of practicality, versatility and style.
To find out more and watch the full video review, visit the MotorTorque website: http://www.motortorque.com/videos/new-car-reviews/kia-sportage-review-22943.aspx .
Contact MotorTorque:
Simon McBride,
Editor
MotorTorque.com
1st Floor Beetham Plaza,
25 The Strand,
Liverpool,
L2 0XJ
Tel: +44 (0)844 445 7862
Email: simon.mcbride(at)motortorque(dot)co(dot)uk