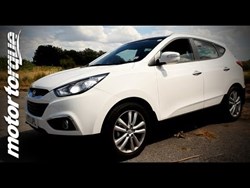 Liverpool, UK (PRWEB UK) 22 August 2013
The increasingly popular automotive YouTube channel MotorTorqueUK have put another car to the test. This time the focus is on the Hyundai ix35.
Hyundai's ix35 replaces the Tucson in its model line-up and does so in much better style and with greater performance. Having been compared to other crossover SUV's like the Ford Kuga and Toyota RAV4, the video showcases how the ix35 can beat its competition.
Sporting cleaner lines across the body, Hyundai has made the ix35 a lot sleeker and it has a much more appealing road presence.
MotorTorque Editor Simon McBride tests the car on features from its appeal to its performance. Simon was impressed with the interior - in particular the technology provided inside the car. The car includes many features that aid the ride when traversing rough terrain and steep inclines.
The performance and handling scores were notable considering its huge size. Hyundai's latest SUV is also great value for money compared to rivals.
To find out more about what Simon McBride thought about the rest of the vehicle, check out the video for yourself on the MotorTorque website: http://www.motortorque.com/videos/new-car-reviews/hyundai-ix35-review-23078.aspx .
Contact MotorTorque:
Simon McBride,
Editor
MotorTorque.com
1st Floor Beetham Plaza,
25 The Strand,
Liverpool,
L2 0XJ
Tel: +44 (0)844 445 7862
Email: simon(dot)mcbride(at)motortorque(dot)co(dot)uk