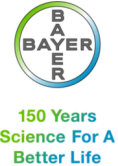 "Municipal maintenance programs typically require three to five herbicide applications per six-month growing season. Esplanade EZ can control weeds for up to six months with a single application," said Matt Nespeca, manager of Bayer's IVM business.
RESEARCH TRIANGLE PARK, N.C. (PRWEB) August 20, 2013
Environmental Science, a division of Bayer CropScience LP, will launch Esplanade® EZ – a new vegetation solution for protecting municipal infrastructure – at the American Public Works Association (APWA) International Public Works Congress & Exposition in Chicago, Aug. 25 – 28. The product offers municipal maintenance professionals broad-spectrum, pre-emergent control of weeds and grasses in bareground areas such as roadsides, curbs, sidewalks, gravel yards and parking lots.
"Municipal maintenance programs typically require three to five herbicide applications per six-month growing season," said Matt Nespeca, manager of Bayer's Industrial Vegetation Management (IVM) business. "Esplanade EZ can control weeds for up to six months with a single application. This helps municipal managers reduce their overall labor expenditure and operate more efficiently by allowing them to focus their crews on other activities."
Esplanade EZ delivers new herbicide technology in an easy-to-use format that quickly burns down existing vegetation and provides extended residual control of more than 75 grassy and broadleaf weeds.
Bayer will present "The Impact of Unwanted Vegetation on Municipal Infrastructure and Innovative Management Solutions" at the APWA Congress Exhibitor Solutions Theater #2 (booth #2143) on Monday, Aug. 26, at 11 a.m. The company will also feature Esplanade EZ at the Bayer booth (#1914) on the expo floor.
Bayer entered the industrial vegetation management market in 2011 with the launch of Esplanade 200 SC, a pre-emergent solution for use on railroads, roadsides and industrial areas.
Note: Esplanade EZ is currently EPA registered, and is undergoing state registration this summer. Please check with Bayer to determine if Esplanade EZ is available in your state. For more information visit http://www.BackedbyBayer.com. Always read and follow label instructions.
Bayer CropScience Twitter Page:
http://twitter.com/bayer4cropsus
Bayer CropScience Blog:
http://connect.bayercropscience.us
Bayer CropScience is committed to bringing new technology and solutions for agriculture and non-agricultural uses. For questions concerning the availability and use of products, contact a local Bayer CropScience representative, or visit Bayer CropScience online at bayercropscience.us.
###
About Bayer CropScience
Bayer is a global enterprise with core competencies in the fields of health care, agriculture and high-tech materials. This year the company is celebrating 150 years of Bayer – consistent with its mission "Bayer: Science For A Better Life". Bayer CropScience, the subgroup of Bayer AG responsible for the agricultural business, has annual sales of EUR 8,383 million (2012) and is one of the world's leading innovative crop science companies in the areas of seeds, crop protection and non-agricultural pest control. The company offers an outstanding range of products including high value seeds, innovative crop protection solutions based on chemical and biological modes of action as well as an extensive service backup for modern, sustainable agriculture. In the area of non-agricultural applications, Bayer CropScience has a broad portfolio of products and services to control pests from home and garden to forestry applications. The company has a global workforce of 20,800 and is represented in more than 120 countries. This and further news is available at: press.bayercropscience.com/.
Contact:
Bayer CropScience Media Hotline, 1-877-879-6162, or
Jenny Spurgeon
Global Prairie
Tel: (216) 203-7202
Email: jennifer(dot)spurgeon(at)global-prairie(dot)com
Becca Hogan
Manager of External Communications
Bayer CropScience LP
Tel: (919) 549-2998
Email: becca(dot)hogan(at)bayer(dot)com
USA-BCS-2013-0239
Find more information at http://www.bayercropscience.us/.
Forward-Looking Statements
This release may contain forward-looking statements based on current assumptions and forecasts made by Bayer Group or subgroup management. Various known and unknown risks, uncertainties and other factors could lead to material differences between the actual future results, financial situation, development or performance of the company and the estimates given here. These factors include those discussed in Bayer's public reports which are available on the Bayer website at bayer.com. The company assumes no liability whatsoever to update these forward-looking statements or to conform them to future events or developments.
©2013 Bayer CropScience LP, 2 T.W. Alexander Drive, Research Triangle Park, NC 27709. Always read and follow label instructions. Bayer, the Bayer Cross and Esplanade are registered trademarks of Bayer. For additional product information call toll-free 1-866-99-BAYER (1-866-992-2937) or visit our website at BayerCropScience.us.