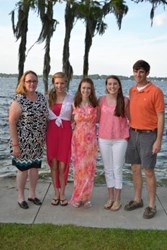 Statesville, NC (PRWEB) August 20, 2013
Carolina Farm Credit recently sponsored Barbara McAnulty, daughter of Peter & Jean McAnulty, of Hickory, NC; MaKayla Gross, daughter of John & Tina Gross, of Sanford, NC; and Kathryn Waters, daughter of Marty & Michelle Waters, of Lenoir, NC to attend the 2013 Cooperative Youth Leadership Conference held at the N.C. FFA Center in White Lake.
Nearly forty students from across North Carolina attended the week-long camp that focused on building leadership skills while learning about cooperatives. The attendees, each sponsored by a cooperative or agricultural organization, enjoyed a series of outdoor team building activities and participated in a luau dinner and talent show. Speakers included Bob Usry, retired professor from NC State University who led an economic activity called "Make It Fly," Dr. David Jones, professor at NC State University who conducted a personality profile, and Sandy Glasson from Coastal Federal Credit Union who led a budgeting workshop. Jennie Gentry, President of the Cooperative Council of North Carolina, led Co-Op 101 and Leadership workshops. The youth also received training in the operation of cooperatives by organizing a t-shirt cooperative. They sold shirts to fellow campers and donated the proceeds to the North Carolina Cooperative Council's youth program. McAnulty was elected as the Co-op President and won first place in the talent show with her Irish tap dance routine.
McAnulty and Waters received Leadership Awards at a special awards banquet that brought the camp to a close. They joined three other award-winning camp attendees at the 2013 National Institute on Cooperative Education (NICE) conference held in July on the campus of Virginia Tech University in Blacksburg, VA. All students who attended co-op camp are eligible to apply for a $1,000 college scholarship from the Cooperative Council of North Carolina when they graduate from high school.
Carolina Farm Credit also provided two counselors for the week. They were Marsha Williams, Loan Officer from Wilkesboro; and Scott Lee, Loan Officer from Statesville.
Carolina Farm Credit serves over 8,800 members with loans outstanding totaling more than $1.3 billion. The association's territory covers the western half of North Carolina, with service centers located in Albemarle, Asheboro, Asheville, Boone, Browns Summit, Burnsville, Carthage, Concord, Ellerbe, Graham, Hendersonville, Hillsborough, Jefferson, Lenoir, Lexington, Lincolnton, Marshall, Mocksville, Monroe, Murphy, Newton, Pilot Mountain, Roxboro, Rural Hall, Salisbury, Shelby, Siler City, Sparta, Spindale, Statesville, Taylorsville, Wadesboro, Waynesville, Wilkesboro, Yadkinville, and Yanceyville.
Carolina Farm Credit was recognized as a 2013 Best Employer in North Carolina. The list of the Best Employers in North Carolina was created by Business North Carolina, the Society for Human Resource Management (SHRM) – NC State Council and Best Companies Group. Carolina Farm Credit is the 5th Best Employer in North Carolina in the small to medium-sized company category.
Directors for Carolina Farm Credit are Joseph A. Lail, Chairman, Shelby; Mark A. Bray, Vice-Chairman, Lawsonville; John M. Barnard, Statesville; E. Bernard Beck, Seagrove; W. Rex Bell, Statesville; David M. Coltrane, Pleasant Garden; Susie J. Gambill, Sparta; W. Steve Love, Graham; Bobby J. "Bud" Matthews, East Bend; Clark M. Newlin, Haw River; Thomas E. Porter, Jr., Concord; Tony L. Ragan, Sanford; D. Kaleb Rathbone, Waynesville; Lewis E. Smith, Lincolnton; Vickie N. Smitherman, East Bend; L. Kim Starnes, Salisbury; Dr. Alton Thompson, Summerfield.