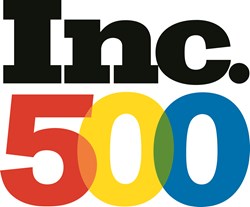 Boston, MA (PRWEB) August 20, 2013
Dane Street, a leading URAC-accredited provider of Peer Review services to the Workers' Compensation, Disability, Pharmacy, Auto and Group Health markets, today announced that it has been named to the prestigious Inc. Magazine's List of Fastest Growing Private Companies in America.
Each year since 1982, the Inc. 500|5000 is ranked according to percentage revenue growth rate. The companies must be U.S. based, privately held, independent, and for-profit in order to qualify for the listing. Revenue in 2009 had to be at least $100,000, and revenue in 2012 had to be at least $2 million.
Dane Street is ranked #223 in Inc.'s ranking of the 5,000 Fastest Growing Private Companies. For its inclusion on the 2013 listing, Dane Street reported a 1,922% revenue growth during the three-year period from 2009 – 2012.
This award puts Dane Street among an elite group of companies that have received this prestigious award over the years including Intuit, Zappos, Microsoft, Timberland, Pandora, UnderArmour, and Oracle.
"Being recognized by Inc. Magazine is a tremendous achievement for Dane Street," said Dane Street CEO, Will Fulton. "I am extremely thankful to our great team of employees, and for the support of our clients and partners throughout the country. We will continue to work diligently to earn our clients' business each day, while striving to develop innovative new ways to deliver value to their medical management and claims teams."
The Inc. 500 list will be published in Inc. Magazine's September 2013 issue.
About Dane Street
Dane Street is a Medical Review company providing Peer Reviews to the Workers' Compensation, Disability, Pharmacy, Group Health and Auto market segments. Our nationwide panel of active-practice, board-certified health care professionals consists of more than 1,000 state-licensed individuals across more than 70 different specialities and fields of services. Our mission is to deliver superior report quality and turnaround time via robust technology, and by people who are committed to exceeding our clients' expectations. Please visit us at http://www.danestreet.com.