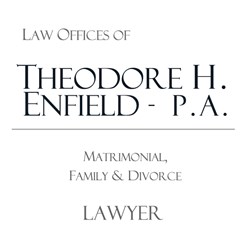 Miami, FL (PRWEB) August 30, 2013
Couples often think they are doing the right thing when they try to stay together for the sake of the children. They believe that the children would rather have both their parents living under the same roof than any other option. But research has shown that children simply want their parents to be happy, and if living separately seems to make their parents happier, then children will readily adjust to this. However, before the parents can start their new independent lives, there is the difficult procedure of divorce to deal with. No matter how much both parties may mutually want the divorce to happen, it can still be an incredibly stressful time, for all members of the family, especially when the negotiations regarding finance and child custody are in process. If there are difficulties in reaching an amicable agreement, this can often cause a great deal of tension. This is why it can be very helpful for families to find a good family law office in Miami where they can get good advice on how to navigate these troubled waters.
Theodore H. Enfield, a leading Miami Dade county attorney with almost 30 years of experience, announces new strategies for protecting the whole family when divorce proceedings begin. These include ideas such as ensuring that the parents live in separate accommodation while negotiating their divorce. It can be claustrophobic to live together during a stressful time, and there must be firm boundaries so that the children can get used to the situation, and so that each adult party has space from each other. There is also the idea that children should not be involved in any decision, that they feel safer and more in control if decisions are presented to them by their parents. With many years of experience as a child custody lawyer in Miami, Theodore H. Enfield understands the needs of children on a very deep level and is aware that children can respond very badly when a family unit breaks down, and that parents must compensate by giving the children extra reassurance. By making sure that negotiations take place in a neutral place, and away from children, couples should make sure that the emotional scarring to their children is minimized. There will obviously always be repercussions after a divorce, but by taking the right advice, a couple can ensure that they protect their family and put their children's needs first. People searching for a divorce lawyer in Miami will often find that Theodore H. Enfield comes up first in local listings, thanks to his long list of satisfied clients and positive reviews.
About Theodore H. Enfield: Theodore H. Enfield has an expert knowledge of legal separation in Florida, as well as extensive experience in all aspects of family law, including divorce, annulments, alimony, property settlements, and domestic violence cases. For more information call 305-933-9592 or toll free on 800-733-5299, or visit theodoreenfield.com