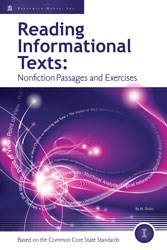 Reading Informational Texts and College and Career Readiness: Writing have The Standards at their core, and teacher response to these series has been excellent
Smyrna, DE (PRWEB) August 21, 2013
Forty-five states, the District of Columbia, four territories, and the Department of Defense Education Activity have adopted the Common Core State Standards. All educational publishers recognize teachers' need for materials aligned to the Common Core Standards, and everyone seems to be rushing to fill that need. However, all the products that are coming out labeled as "aligned to the Common Core Standards" aren't all equal in their fulfillment of that promise. The two series Teacher's Pet Publications has just added to its inventory actually live up to and exceed the alignment promise. "Reading Informational Texts and College and Career Readiness: Writing have The Standards at their core, and teacher response to these series has been excellent," according to Mary Collins, brand manager for Teacher's Pet Publications
Reading Informational Texts provides teachers with exactly what Common Core State Standards (CCSS) require — challenging selections to give students vital practice with non-fiction works. Each student workbook (available for grades 9-12) provides rigorous, direct student instruction and contains an anthology of seven passages chosen using the CCSS designated methods, including difficult-to-find as well as well-known historical, legal, and scientific works. To help students get the most out of what they are reading, passages are outfitted with helpful margin notes, a defined vocabulary list, and short background materials. Reading Informational Texts guides students through a close reading of each work, challenges them with short answer and essay questions, and ultimately helps them gain the skills necessary to read and understand any work of nonfiction.
College and Career Readiness: Writing is a powerful new program for Grades 10 and 11 that is more than merely aligned with the Common Core State Standards -- it was built from the ground up with the Standards at the core. Every lesson supports and guides students through the process of crafting exceptional pieces in one of four genres: Personal, Informative, Persuasive, and Research writing. College and Career Readiness: Writing helps teachers align daily, weekly, and monthly unit plans with the Common Core State Standards. It gives students indispensable practice in the full scope of writing that will be expected of them after high school, and it builds student confidence and independence with carefully scaffolded lessons.
"These two series are great additions to Teacher's Pet Publications' inventory of English Lanugage Arts resources that are aligned with the Common Core Standards," said brand-manager Collins.
As teachers head back to school, this is the perfect time to explore standards-based materials for use throughout the school year. Both of the new series now have package deals which include 30 copies of the student texts plus a teacher's edition at substantial savings.
Teacher's Pet Publications has thousands of resources for teaching English, most of which are downloadable for instant access. For over 20 years, the company's focus was only on literature guides, but in the last several years it has greatly expanded its catalog to include all aspects of English language arts as well as professional development resources for English teachers.
For more information about Reading Informational Texts, College and Career Readiness: Writing, or other Common Core Standards-aligned materials from Teacher's Pet Publications, visit their website or email info(at)tpet(dot)com.