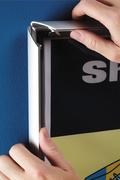 It gives that stylish poster frame look and the 'kwik snap' feature makes it very user friendly…but out of sight to the casual observer.
Chino, CA (PRWEB) August 22, 2013
This year, Plastic Products Mfg has broadened inventory to include an extensive array of Solid Wood Products and recently, Name Plate Holders…all complementing over three decades of quality sign holders, brochure holders, and a vast inventory of acrylic display products. Today, the striking new addition of Klik Snap Poster Frames has just been unveiled, Plastic Products Mfg's latest entry in modern Poster Frames – combining form and function using both Satin Aluminum and classic Acrylic.
Also referred to as Snap Frames, this new wall mount design showcases signs and posters in a display bordered on all sides by Satin Aluminum with a clear plastic facing. Frame edges snap open and closed to give end users easy access when changing a featured advertisement. A specially formulated clear plastic cover gives onlookers a perfect view. The overall package is an eye-catching Poster Frame that is also extremely sturdy and adds depth to the display itself…a dynamic "Klik Frame" that captures the effect found in movie theater promotions, for example.
Snap Poster Frames construction is a bit different than many of the standard acrylic sign holders we offer where signs, posters, and other print material simply slide into place via top, side, or bottom loading. Instead, picture the stand-out frames you see at movie theaters, live entertainment venues, restaurants, and museums where posters and other print advertising require a heftier display that protects signs from damage and other potential harm, including the elements and other potential outside damage. Snap Poster Frames – commonly called Klik Frames – use the same principle and design for your applications.
William Saunders, President of Plastic Products Mfg, commented that "Klik Snap Poster Frames are unlike other displays we've offered in the past. We're pretty excited to offer our customers such an effective combination of our traditional acrylic with solid aluminum borders. It gives that stylish poster frame look and the 'kwik snap' feature makes it very user friendly…but out of sight to the casual observer. We expect it will be a popular seller and a great addition to our growing product lines."
Plastic Products Mfg's new Klik Snap Poster Frames are available in six standard dimensions to cover a broad range of sign and poster sizes, from 8-1/2" wide by 11" high up to 24" by 36". Each delivers tremendous protective attributes, keeping materials untarnished. They also mount easily to wall spaces both horizontally and vertically with mounting holes hidden from sight behind the aluminum snap frame. Plastic Products Mfg also includes the mounting hardware with delivery.
Specializing in manufacturing Acrylic Display Products, Sign Holders, Poster Frames and Point-of-Purchase displays for more than three decades, Plastic Products Mfg has a strong reputation for top quality standards, outstanding delivery, and an exclusive "Customer Bill of Rights." 2013's new additions continue to make Plastic Products Mfg a leader in the industry. Among its top accounts, the company serves major corporations like Glaxo Smith Kline, H & R Block, Proctor and Gamble, Starbucks, WalMart, Walgreens, Hertz, T-Mobile, Target, and Honda to name a few. For more information, please visit http://www.plasticproductsmfg.com .