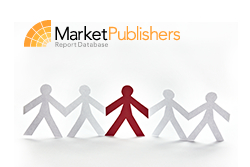 London, UK (PRWEB) August 20, 2013
Market Publishers Ltd and TriMark Publications signed a partnership agreement for quality market research promotion on Internet. MarketPublishers.com is now authorised to distribute and sell TriMark Publications reports.
"TriMark Publications is a global leader in biotechnology, healthcare and life sciences market research publishing. Since 2001, the company's committed research specialists have been gaining experience in developing reports on such specific areas as medical imaging, pharmaceuticals, medical devices, clinical diagnostic testing, cancer and genetics. We are sure that TriMark's publications will fit the most diverse research needs of our valued customers," commented Tanya Levdikova, Assistant Manager at Partners Department at Market Publishers Ltd.
In-demand research reports by TriMark Publications:
Microarray Markets. Rapid growth in the clinical research and diagnostic devices markets holds great potential for applications of microarray technology, including basic research, clinical trials and diagnostic devices. This TriMark Publications reports describes the specific segment of the microarray market aimed at the analysis of proteins and DNA. It examines various microarray platforms and the technologies that are utilized in hospitals, clinics, commercial laboratories and research institutions to detect DNA and proteins for the purpose of drug discovery, disease diagnosis and disease monitoring. This report also examines companies that are actively developing and marketing microarray instrumentation or microarray biochips. Detailed tables and charts with sales forecasts and marketshare data are also included.
Biologics and Biosimilars World Markets. The report describes the emergence of biologics and biosimilars and their potential role in shaping the future of the global healthcare industry. The study analyzes the changing dynamics of the pharmaceutical market and provides insight into the regulatory pathways for branded pharmaceuticals and biologics, patent expirations, business strategies, clinical trials and drug applications. Moreover, the study examines companies that are actively developing and marketing biologics and biosimilars in the world. Detailed tables and charts with sales forecasts and marketshare data are also included.
Companion Biomarkers in Drug Development. Market opportunities for companion biomarkers are focused in drug development targets, drug development efficacy and clinical end points in four main therapeutic areas: oncology, cardiovascular, neurology and autoimmune. Using companion biomarkers yields safer and more efficacious drug products, reduces clinical trial and development costs, improves post-marketing safety profiles and salvages therapies that otherwise would not be granted approval. The study focuses on the role of companion diagnostic tests in drug development, analyzing the application of companion biomarkers to drug development and targeted therapeutics, as well as their use in clinical trials and the regulatory forum.
More details on TriMark Publications and their reports can be found at http://marketpublishers.com/members/trimark/info.html
About Us:
MarketPublishers.com is a multilingual hypermarket offering a rich collection of comprehensive studies on various markets, sectors, industries, companies, etc. We perform professional services aimed to equip our clients with high-quality research products and support critical decision-making.