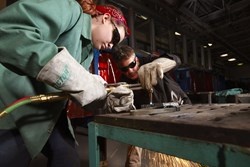 (PRWEB) August 22, 2013
If you know someone who works with metal as a professional, hobbyist, student or instructor, let them know that Victor Technologies™ has two contests that they can enter to celebrate the 100th anniversary of Victor® cutting and gas control equipment. Visit http://www.victortechnologies.com/victor100 for contest details, entry forms and other 100th anniversary news.
The "A Cut Above" contest is open to students in cutting, welding and related programs at secondary and post-secondary schools and will award more than $30,000 in equipment and cash prizes. Beginner students will write a 500-word essay supporting the contest theme, while advanced students will submit a team metal fabrication project that incorporates an oxy-fuel, air-fuel or plasma cutting process.
The "Show Us Your Innovations" 2014 calendar contest will award 12 Victor® Medalist 250 Cutting Outfits and — a Victor® Thermal Dynamics® CUTMASTER® 42 plasma cutter as the Grand Prize — for the best photos and associated captions of the entrant using any Victor or Victor Thermal Dynamics cutting equipment.
"These contests celebrate the spirit of our end users who have used Victor equipment for over the past 100 years. Winners will demonstrate innovation, craftsmanship and an appreciation for quality tools that enable them to shape their world," says Martin Quinn, CEO, Victor Technologies.
The Innovations contest ends September 30 and the Student contest ends October 30. Winners will be announced at the Victor Technologies booth at FABTECH 2013 Expo in Chicago in November. Contests are open to individuals with a passion for cutting and welding who are residents of the United States or Canada (excluding Quebec).
What does it take to be a winner? View video with winners from 2012 student contest for advice.
About Victor Technologies
Headquartered in St. Louis, Missouri, Victor Technologies provides superior solutions for cutting, gas control and specialty welding equipment under brand names that include Victor®, Victor®Thermal Dynamics®, Victor®Arcair®, Victor®TurboTorch®, Tweco®, Thermal Arc®, Stoody®, Firepower® and Cigweld®. For more information about Victor Technologies, its products and services, visit the company's web site at http://www.victortechnologies.com .
Image Information
JPG Name: Victor Cutting Contest
Caption: Victor Technologies celebrates the 100th anniversary of its Victor brand by launching a contest for students and schools and a photo/caption contest for its 2014 calendar. Visit http://www.victortechnologies.com/victor100 for details. Shown here, a student and instructor train with the oxy-fuel cutting process using a Victor Journeyman cutting system.