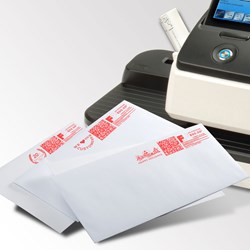 We're giving PostBase users an easy, low-cost advertising alternative.
Addison, IL (PRWEB) August 22, 2013
FP Mailing Solutions, international provider of postage meters and mailing equipment, announces PostBase Advertisements. Crafted exclusively for FP customers who run PostBase postage meters, this new service allows customers to add custom logos, text messages, or standard graphics to the postage indicia area.
Company logos give mailers a subtle but powerful tool to reinforce their brand. Alternatively, mailers can add special text messages in the advertising area, allowing for eye-catching promotions or customer communications. As a third option, FP offers dozens of stock graphic messages, including Holiday/Religious, Customer Service, Professional Services, Anniversaries, and more.
Kevin Pietras, FP Director of Marketing, is excited to bring the new service to FP customers."We're leveraging an existing, but under-utilized, communications platform – the outside of the envelope – to give PostBase users an easy, low-cost advertising alternative."
The new service is easy to procure and as affordable as a tank of gasoline. FP Direct Customers need only to call Customer Service at 800-341-6052 to place their order, and then email FP their custom artwork. FP Dealer Customers should contact their local dealer.
For more information, see the PostBase Ads web page: fp-usa.com/postbase-ads [http://fp-usa.com/postbase-ads __title__ PostBase Ads].
FP Mailing Solutions is an international manufacturer of postage meters, mailing systems and mailroom software, is the fastest growing postage meter provider in the U.S. Whether you have a large mailroom or own a small business, FP Mailing Solutions has the tailored postage meter system for your needs. For more information on FP Mailing Solutions, visit http://www.fp-usa.com.