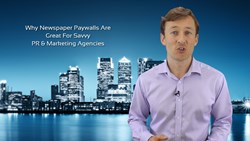 (PRWEB UK) 23 August 2013
WOW Video Production are pleased to announce that they provide the video production services that can help PR & Marketing agencies stay on top of the latest changes in the industry. The Times, The Sunday Times and The Sun now operate online paywalls for readers. The Daily Telegraph and Sunday Telegraph are also set to implement the same later in the year. This may seem like bad news for consumers but this is great for PR and Marketing agencies if they are prepared to go that little bit further.
With paywalls in place, the pressure is on for those titles to deliver higher quality content than before these paywalls were implemented.
The main benefit which a newspaper's online publication offers, is the potential for its readers to watch video. Video of course is the preferred medium for content delivery by online users.
So as an agency, if the news release package includes a video, it's much more likely to be picked up and run with than if it did not. Put another way, if an editor has two stories to choose from of seemingly equivalent value, the introduction of their paywall puts pressure on them to choose the story with the video.
Now, the great news for PR & marketing professionals is that, in nearly every case, a video can be easily produced.
A PR event simply needs a crew to attend and report on what the marketing or PR team has already worked hard in creating the story. Further depth can be added by using a presenter to interview subjects, celebrities and spokespeople.
A typical setup is to have a videographer and an interviewer. However, where budgets are restricted a cameramen who can shoot and conduct interviews themselves is the perfect solution, and it is a solution that is an integral part of modern video production services.
With a fresh approach to production which leverages technology, videos can be turned around within 24hrs or even on the same day. Meeting this turnaround requires footage to be edited by a video production company on site immediately after filming, or it involves footage to be sent back to the production facility digitally.
So with the addition of a video to a news release package, the story stands to have a much wider audience reach than before. Also, it's much more likely to be picked up and run with in the first place.
One quick additional suggestion with regard to staying within budget and maximising profitability is to use camera crews near to where the filming needs to take place. As travel costs include mileage as well as the time spent travelling, using the nearest crew means unnecessary expenses are kept to a minimum.
About WOW Video Production:
With 54 camera crews nationwide across the UK, WOW Video Production specialise in providing agencies with an on-demand fast turnaround video production service. The company is able to provide a 24 hour turnaround if required for jobs with strict deadlines. The company provides a dedicated video consultant to every project. This means that there is a single point of contact, helping firms to get their point across in a more effective and efficient manner.
To get sample costings for including video with future releases, please do give us a call on 02380 001154 or use the form below.