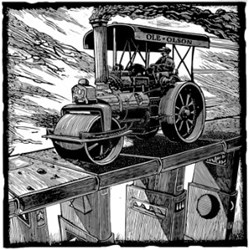 The idea behind the festival was to bring the community closer to the printing process by allowing all ages to witness, enjoy and participate in the power of printing on a grand scale.
San Francisco (PRWEB) August 20, 2013
The San Francisco Center for the Book (SFCB) is pleased to host the 10th Annual Roadworks Steamroller Printing Festival. The Festival, which will be located just outside the front door of San Francisco Center for the Book's new home at 375 Rhode Island Street in San Francisco, is a free, public celebration full of activities devoted to letterpress, printmaking and the art of the book.
Utilizing a three-ton construction steamroller and Rhode Island street (yes, the surface of the street itself!) as a printing press, a team of ten featured artists and printers will print large-scale linoleum carved block prints, in front of a live audience. In addition, a diverse array of local artists, vendors, and organizations will be selling fine and affordable goods. Food and beverages will be available for sale.
Among the featured artists and printers who will be creating industrial sized steamroller prints is Rik Olson. A master printmaker based in Sonoma County, Olson is a mainstay of the Festival and is the only person who has participated in this main attraction activity of the Festival since its inception ten years ago.
The remaining nine featured artists will be announced next week.
The freshly pressed steamroller prints will be for sale inside San Francisco Center for the Book and special previews and online pre-sale events will be held in advance of the event.
The San Francisco Center for the Book is a place where you can learn about the many arts and crafts of the book. Through workshops, exhibitions and public events, SFCB promotes both knowledge of traditional book arts and exploration of experimental book forms. SFCB is located at sfcb.org.
###
EVENT: Roadworks Steamroller Printing Festival
DATE: Sunday, September 29, 2013
TIME: 11:00 a.m. until 4:00 p.m.
LOCATION: Rhode Island Street between 16th and 17th Streets, San Francisco, CA. Reception at 375 Rhode Island Street, San Francisco, CA.
TICKETS: not applicable, this is a FREE event
WEBSITE: http://www.sfcb.org
Interview with Rik Olson | http://sfcb.org/blog/2011/03/17/rik-olson-master-printmaker/
Video clip for 2012 Roadworks | https://vimeo.com/51045127
Maker Magazine: http://makezine.com/craft/roadworks-2012-steamroller-printing-festival/