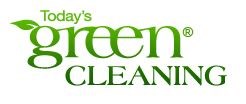 Santa Monica, CA (PRWEB) August 20, 2013
The idea of a business launching a blog is anything but new, and the blogosphere is pretty much overcrowded with blogs which offer their visitors little or no value. In fact, a lot of the blogs found online were set up with the sole function of getting clicks on advertising offers. The team at Today's Green Cleaning, however, appear to view blogging in the correct light - a way to provide customers with additional information about services, while also providing them with useful information or advice on related topics.
When we asked the owner of Today's Green Cleaning, Robert Cervenka, for the reasoning behind adding a blog to the website, he remarked, "We've spent several years working very hard to differentiate ourselves from our competitors, treating our customers as valued individuals and providing excellent customer service as part of that. We see customer-focused blogging as the next logical step in that process - moving our web presence from just being a 'sales pitch' to being more about interacting with our customers in the most useful possible way for them."
The blog on the Today's Green Cleaning site has a bright and open look and feel to it, and is also easy to navigate. It appears a considerable amount of time and effort has gone into providing their visitors with a blog they might want to visit on a regular basis. On this Robert Cervenka had the following to say, "Our web design team took extra care in terms of the usability of the blog because we've all seen examples of blogs which are so loaded down with 'features' that they're entirely unusable. Our goal is to provide visitors with a blog that renders as well on their desktop PC as it did on whatever mobile device they might be using."
So anyone looking for information on the services provided by Today's Green Cleaning, or who simply want to learn more about working with the environment instead of against it, might want to take the time to visit the new blog on the Today's Green Cleaning site.
About Today's Green Cleaning
From their headquarters in Torrance, Santa Monica Today's Green Cleaning are a team of experienced cleaning specialists, utilizing only the most environmentally friendly cleaning products in everything they do. If you're looking for a high-quality cleaning service in the Santa Monica area at a price you'll love then contact them for a quote.
Contact:
Today's Green Cleaning
Torrance
Santa Monica
(310) 341 2252