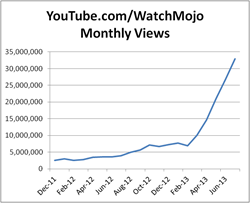 We were impressed to see WatchMojo join this elite list, which includes channels from major motion picture and television studios to burgeoning indie producers.
Montreal, Canada (PRWEB) August 20, 2013
With 32,770,953 video views during the month of July 2013, WatchMojo's YouTube channel cracked Tubefilter's list of Top 100 Most Viewed YouTube Channels Worldwide, entering the chart at number 99.
"Tubefilter's Top 100 tracks the top performing channels on YouTube. We were impressed to see WatchMojo join this elite list, which includes channels from major motion picture and television studios to burgeoning indie producers. WatchMojo's breed of professionally-produced video content is clearly resonating with larger audiences on YouTube each and every month," states Tubefilter founder and Executive Producer of the Streamy Awards Joshua Cohen.
Over the past two years, YouTube has become ground zero in the video advertising space, with venture capitalists, Bertelsmann, Comcast, Time Warner, DreamWorks, and Google itself investing or acquiring YouTube-centric producers. This activity has been fueled by advertising spending on YouTube, which was pegged at $4 billion globally. The U.S. video ad market is forecasted to more than double to $9.06 billion in 2017 from $4.14 billion, according to researcher eMarketer Inc.
WatchMojo has experienced five consecutive record months, growing monthly streams in that period from 7 million to 33 million. In fact, in the past year, WatchMojo has grown monthly streams 750%, increasing from 3.9 million in July 2012 to over 32.7 million in July 2013.
That growth has been fueled by a surge in subscribers: since January 1, 2013, WatchMojo's subscription has rocketed from 100,000 to 600,000. "We grew subscribers from 25,000 to 100,000 throughout 2012, but 2013's growth has even surprised us. We forecast to cross 1 million subscribers during Q4 2013," predicts CEO Ashkan Karbasfrooshan.
WatchMojo launched in 2006 with a mission to inform and entertain. The company was successful in creating a catalog of high-quality informational and entertaining video clips which were licensed by various media companies and academic organizations, reaching profitability in November 2010. WatchMojo never raised financing. Since 2012, the company's undergone a period of hypergrowth, with its popularity exploding as audiences embrace its mix of biographies, profiles, origins, guides and Top 10 lists in record numbers.
"We've always joked that 'if we would have asked viewers what they wanted in 2006, they would have said UGC in HD,'" states Karbasfrooshan. "But today, we listen to our audiences' interests and passions and are increasingly turning to them to determine what we produce. Without a doubt, that has also helped us grow."
Indeed, in April WatchMojo launched the Video Suggestion Tool, which allows viewers to suggest video ideas and to vote on other viewers' suggestions. Today thousands of viewers use the tool to essentially drive WatchMojo's creative process.
"We've always believed in professionally-produced quality programming – that will never change – but with our suggestion tool and the power of the 600,000-strong subscriber mass, we are adding an element of data and interactivity that is unparalleled in the landscape," concludes Karbasfrooshan.
The result is not only more pertinent profiles and more authoritative lists, but more popular and commercially successful videos, too.
About WatchMojo
WatchMojo informs and entertains through video by covering the people, places and trends that have shaped history.
The company's catalogue of 8,000 videos has generated 1.7 billion cumulative video views online since 2006. Each month, the company reaches over 75 million consumers.
In 2012, Digiday picked WatchMojo as one of three finalists, alongside CBS and HBO, in the Best Entertainment category at the Digiday Video Awards. Marketing Magazine named WatchMojo one of Canada's Digital Media Companies to Watch in its September 2011 issue. Ernst & Young nominated Ashkan Karbasfrooshan for Entrepreneur of the Year in its 2012 media category.
WatchMojo is profitable, privately-held and based in Montreal, Canada.
Learn more on http://www.WatchMojo.com.
###