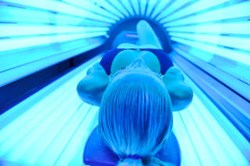 It's time to reconsider our position on what beauty really means. A tan from the sun is really not beautiful; it is a walking advertisement for skin cancer.
Miami, FL (PRWEB) August 21, 2013
As the final days of summer come to a close, many people become desperate to make sure that they return to work or school with a tropical tan.
Unfortunately, this is where tanning beds come into play.
Believe it or not, your summer tanned skin was in response to an injury from the sun. In an effort to protect itself, your skin developed additional pigment to fend off the harmful UV rays provided by the sun.
In an attempt to maintain that "healthy" glow, many people turn to tanning beds as a method of maintaining and increasing the darkness of their current tan.
Sadly, many people believe that tanning beds and booths are safer alternatives to acquiring a tan outdoors. Many sunbathers believe that tanning indoors does not damage the skin. This false sense of security has encouraged the frequent use of tanning booths and beds.
In fact, they may be even more dangerous than tanning outside.
Unlike the sun, tanning beds are at full strength, all the time. There is no season of "weaker" strength like there is for the sun and its seasonal fluctuations of intensity.
The use of a tanning bed greatly increases your chances of premature aging, wrinkles, age spots and melanoma.
Developing a melanoma isn't the only serious issue with tanning beds. People using tanning beds are 2.5 times more likely to develop squamous cell carcinoma and 1.5 times more likely to develop basal cell carcinoma. Squamous cell carcinoma kills an estimated 2,500 people each year.
Lastly, Illinois, California, Nevada, Oregon and Texas have all banned the use of tanning beds by any and all minors. They are that dangerous, no doubt.
When looking for a safer method to achieve a tan, look no further than sunless tanners. Sunless tanners or self tanners are a safe and effective way to get all the beauty of a sun tan, without the sun.