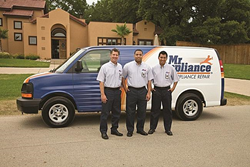 When you call Mr. Appliance you can be confident that the appliance repair technician who services your appliances and equipment is the best person for the job.
Washington DC (PRWEB) August 22, 2013
Mr. Appliance of Northern Virginia was awarded the "Best of the Best" designation for excellence by Follow Media Consulting, Inc. in the category of Appliance Repair Fairfax VA. This award signifies the continued commitment and dedication of the area best in home appliance repair services.
At some point the appliances in one's home will need maintenance. When one needs a Sub-Zero refrigerator fixed or a Bosch dishwasher serviced, one should call a company that has residential and commercial experience and Mr. Appliance of Northern Virginia has that, and is committed to providing not only expert appliance repairs and maintenance, but also the utmost courtesy and respect.
Mr. Appliance is North America's leading home and commercial appliance repair franchise system. Established in 1996, its franchises provide full-service home appliance repair and light commercial appliance repair services. Mr. Appliance has more than 150 locations throughout the United States and Canada and is consistently ranked among the top home service franchises by Entrepreneur magazine and other industry experts.
At Mr. Appliance, they know there's never a convenient time to have household or kitchen appliance issues. That's why their goal is to provide quality appliance repair service in a timely and honest manner -- a combination that has made them the first choice of many residential and commercial clients worldwide. They promise to respect one's home and give a solid quote before the work begins so there are no surprises.
Mr. Appliance works toward their goal of superior service by offering:
Prompt, efficient attention.
A solid quote before the service begins - no surprises.
Their "leave no trace" clean-up commitment.
Courteous and skilled in-home service professionals.
Never an over-time charge - they charge by the job, not by the hour.
Mr. Appliance of Northern Virginia is locally owned and operated and is part of the largest and fastest growing full service appliance repair company in the world. When one's appliances are in need of repair, contact the appliance repair experts at Mr. Appliance of Northern Virginia. Call them at phone number (703) 272-4100 or visit their website at http://www.mrappliance.com/NOVA to know more.
About Follow Media Consulting, Inc.
Named one of the best SEO companies by Jonas Marketing, Follow Media Consulting, Inc. is a rapidly growing worldwide firm of SEO, Social Media, and Mobile Marketing Professionals. Follow Media Consulting, Inc. headquarters is located in Richmond, VA. However, our professional team is networked across the world, with regional offices across the United States, in the United Kingdom, Canada, Australia, France, South Africa, the Philippines, and India.