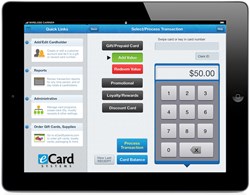 What Square did for credit card processing, eCard Systems has done for gift cards.
Brentwood, TN (PRWEB) August 21, 2013
Over the past few years, iPad-based point-of-sale (POS) systems have rapidly grown in popularity with coffee shops, specialty-food and retail merchants. The low cost, mobility, and ease of operation are attracting thousands of new and existing businesses to this evolving technology. In the restaurant world, tablets and handheld devices are beginning to provide the "pay-at-the-table" option that many believe should become required for credit card security.
Unfortunately, options for gift cards, prepaid cards, promotional and reward card programs have lagged far behind in development. Until now.
Enter the eCard Mobile app. "What Square did for credit card processing, eCard Systems has done for gift cards and the many other card programs successful merchants use," said Greg Grove, President and CEO of eCard Systems. "eCard Mobile frees merchants from the limitations of their existing systems and card providers."
Designed to be used alongside a merchant's POS or credit card processing service, the eCard app provides many of the missing pieces to the typical POS/payment arsenal:

reloadable gift cards, prepaid, promotional, loyalty, rewards & discount cards
phone number lookup for transactions (if a customer loses or forgets their card)
online balance check that merchants can place on their own websites
capture customer info and associate up to 4 different cards per customer
require clerk IDs for transactions for internal security
review transaction history on the iPad for the current day or date range
export customer addresses or emails for marketing campaigns
run two different loyalty programs and discount cards simultaneously on same card
track Gift/Prepaid cards separately from Promotional cards for accurate accounting
process transactions on multiple iPads and across multiple store locations
One of the most user-friendly features is the cost. Instead of paying a fee for every transaction processed, merchants can run the full lineup of card programs for only $29 per year on a single iPad, or $29 per month per store location for an externally-hosted program incorporating as many iPads and locations as needed. Both options include unlimited transaction processing.
With any new software product, there can of course be concerns about reliability and support. Early adopters often pay the price for a new company's learning curve. Fortunately, that is not a worry here. eCard Systems has been providing gift card products and services to merchants throughout the US and Canada for more than a decade. "The stability, security and capacity of our host processing system has been fully vetted over the years," Grove said. "The iPad product is new, but everything behind it is battle tested."
A big part of the infrastructure behind the eCard Mobile app is the wide variety of plastic card production and gift card packaging options that eCard Systems provides. Even small merchants needing only a few hundred cards have low-cost access to a level of product and design quality that puts them on a par with the big national brands. "Consumers don't really care how a gift card transaction is processed," said Jim Bruton, VP of Product at eCard Systems, "but they do prefer great-looking, creative cards and packaging."
Going forward, the company plans to continue expanding product capabilities to include iPhone, iPod and Android devices, as well as virtual smartphone-enabled cards.
The bottom line? Business owners who have not yet made the leap from paper gift certificates to gift cards, or who are stuck with card programs that cost too much and do too little, may find that eCard Mobile for iPad is the way to finally get the job done right, without breaking the bank.
The app is available for free download and demo via the Apple AppStore. Launch the AppStore from an iPad and locate the app through the search term "eCard Systems". Or visit eCardSystems.com/ipadinfo for more information.
About eCard Systems, Inc.
In operation since 2001, eCard Systems is a full-service supplier of gift card, loyalty and stored-value products, programs and systems to the retail, restaurant, hospitality and service industries.