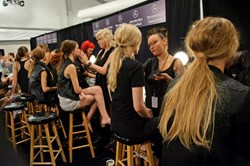 "Work with as many good people as possible so you can learn the tricks of the trade." - Dean Holcombe, Cutler Salon
New York, NY (PRWEB) August 22, 2013
When you're backstage at Mercedes-Benz Fashion Week, you're very likely to run into Cutler Salon preparing models for the next runway show. Located in New York City with 3 locations and over 100 staff members, the salon caters to the fashion industry and high profile events. With over 10 years in the industry, Creative Director Dean Holcombe attributes the success of Cutler Salon to "staying on the pulse of the beauty and fashion world."
In order to maintain the high caliber of service Cutler Salon is famous for and prepare their team to work for fashion designers in one of the most stressful situations possible, each new team member goes through a 3-tier training system. Training is the most important part of maintaining the Cutler brand standards, while fostering the individualistic talents of each team member.
It is this philosophy that has allowed Holcombe to navigate Cutler Salon into a Mercedes-Benz Fashion Week staple, providing backstage hair styling teams for over 50 fashion designers each season and featured regularly in top fashion magazines and on prime time airwaves for national TV shows and events.
In the interview with FashionMingle.net, producer of New York Fashion Week coverage, Holcombe offers important advice for stylists who want to work backstage at Mercedes-Benz Fashion Week, as well as tips for growing a successful styling career. "Work with as many good people as possible so you can learn the tricks of the trade. Learn a little bit of everything and develop your own personal style and be true to yourself," says Holcombe.
Cutler Salon recently created and launched "i am", a new video series showcasing individuals embracing change to suit their lifestyle and celebrate their uniqueness. The video series showcases Cutler Salon's craft and creativity while taking the viewer out of the traditional salon setting and into the world of everyday people who are ready to embrace a new look.
About FashionMingle.net
FashionMingle.net is a network for fashion entrepreneurs to share, discover, and mingle. The online magazine, business directory, and social network creates a platform for fashion entrepreneurs to promote their services and grow their business.