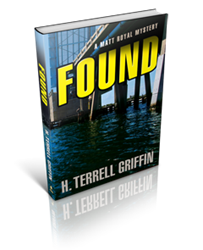 "A mixture of straight-ahead action and laid-back John D. MacDonald–style narrative (Matt is definitely a hero in the Travis McGee mold), this agreeable tale will be a treat for Griffin's growing readership as well as Travis fans."
—Booklist
Longboat Key, Florida (PRWEB) August 23, 2013
FOUND by award-winning author, H. Terrell Griffin will be released in hardcover (ISBN 978-1-60809-099-0, Thriller, 360 Pages, List $26.95), all Ebook platforms (ISBN 978-1-60809-100-3, List $14.95)
Oceanview Publishing provided this storyline synopsis:
"When the serenity of beautiful Longboat Key, Florida, is shattered by a murder, and an elderly resident goes missing, Detective Jennifer Diane (J.D.) Duncan leaps into action. Her investigation is temporarily interrupted when she receives a text message with a current photo of a college friend she thought dead. Matt Royal— J.D.'s friend and more— jumps in to help her. Further assistance comes when Matt's friend Jock Algren visits. Jock is a shadowy operative of the U.S. government's most secretive intelligence agency, with ties all the way to the president.
As the mystery deepens, a group of devious and dangerous characters intrudes on the lives of the islanders, creating havoc unusual for a sun-splashed island full of retirees and beach bums. Matt, J.D., and Jock rush to find the answer to why one elderly man was killed and another disappeared, the meaning of the photo sent to J.D. of her almost surely-dead college friend, and why somebody is trying to kill them."
THE BUZZ:
"A mixture of straight-ahead action and laid-back John D. MacDonald–style narrative (Matt is definitely a hero in the Travis McGee mold), this agreeable tale will be a treat for Griffin's growing readership as well as Travis fans."
—Booklist
"This is a great investigative thriller with action that never stops. Every time one thing is solved, a new 'clue' arrives that completely transforms the face of the original case. Written by a superb writer who is the mind behind Wyatt's Revenge, H. Terrell Griffin has once again hit it out of the park!
—Suspense Magazine
"Griffin's mystery, with its mellow beach bum hero, eccentric characters and Florida ambience, will evoke memories of the legendary John D. MacDonald. Griffin need not suffer greatly by the comparison; he has a trim and tidy thriller that in most ways is worthy of the master."
—San Diego Union-Tribune
The Matt Royal Mystery series include LONGBOAT BLUES, MURDER KEY, BLOOD ISLAND, WYATT'S REVENGE, BITTER LEGACY, COLLATERAL DAMAGE, and FATAL DECREE. FOUND is the eighth novel in the series.