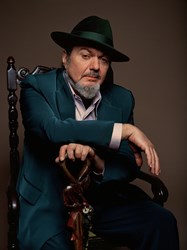 This year's Glitz & Grits is proud to welcome special guest, Louisiana music icon Dr. John.
Shreveport, LA (PRWEB) August 21, 2013
Louisiana State Exhibit Museum (LSEM) in Shreveport, Louisiana will celebrate its 75th Anniversary this year with a gala fundraiser event entitled "Let Them Eat Cake!" at the 2013 Glitz & Grits, 6:45-11 p.m., Friday, Sept. 27. This biennial event supports the extraordinary array of exhibits at the museum, along with the maintenance of the building and staff salaries. As a Smithsonian Institute affiliate, LSEM provides the area with a year-round calendar of outstanding exhibitions that would not otherwise be available in northwest Louisiana.
This year's Glitz & Grits is proud to welcome special guest, Louisiana music icon Dr. John, a six-time Grammy winner and member of the Rock & Roll Hall of Fame. Dr. John will perform on the George Rodrigue Steinway Grand Piano painted with Rodrigue's famous "Blue Dog." His performance will include a tribute to the 75th anniversary of LSEM. After performing on the Rodrigue Steinway Grand Piano, he will add his autograph to the piano, previously signed by a number of other legendary artists.
Returning by popular demand, the event will also include entertainment by Windstorm, Shreveport-Bossier's premier R&B dance band. Attendees will enjoy bidding on a wide array of deluxe items at a silent auction, dinner provided by Silver Star Catering, an open bar and more festivities. Valet parking will be available. Tickets are $150 and can be purchased online at http://glitzandgrits.eventbrite.com or by calling (318) 632-2020.
To learn more about the Louisiana State Exhibit Museum visit the Friends of the Louisiana State Exhibit Museum website at http://flsem.mmcchosting.com/. For more information on Shreveport-Bossier, including hotel accommodations, attractions, restaurants and more, visit http://www.shreveport-bossier.org.