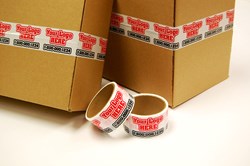 'U.S. companies ship over 10 billion packages every year, many of which are subject to tampering or theft in the logistics chain,' says Lisa Manning. 'Printed tape is an effective way to deter criminals and an inexpensive way to brand outgoing shipments.'
New Albany, IN (PRWEB) August 21, 2013
Discount Labels now prints rolls of custom packaging tape in multiple widths and colors that can both protect a package and promote the company sending it. The tape is available in orders as low as 24 rolls and comes with the following options:

2" or 3" widths
55 or 110 yard lengths
1, 2 or 3 colors
White or clear pressure-sensitive tape
Any custom design or message
Printed Tape Deters Tampering and Theft:
"U.S. companies ship over 10 billion packages every year, many of which are subject to tampering or theft in the logistics chain," says Lisa Manning, Brand Strategist for Discount Labels. "Printed tape is an effective way to deter criminals and maintain the integrity of the package and its contents."
An Easy Way to Stand Out from the Pack:
Every supplier needs to seal boxes and every company wants to stand out. Custom printed tape is an easy and versatile way to do both. Popular reasons companies use printed tape include:
Increasing brand awareness
Identifying package contents
Safety & handling instructions
Inventory messaging
Added professionalism
"Custom printed tape is a fantastic and inexpensive way to brand outgoing shipments with a logo, website, phone number, or any message a business may want to send," says Manning. "It's much more economical than printed boxes, and makes every package a moving advertisement."
Distributors interested in learning more about Discount Labels' custom printed tape offering are encouraged to call one of the company's printed tape experts at 800-995-9500.
About Discount Labels:
Discount Labels specializes in die cut labels, premier labels, durable labels, UL labels, variable data labels, printer labels, magnets, stamps and promotional products for every industry including automotive, construction, healthcare, manufacturing, restaurant and retail. Discount Labels sells through the largest authorized label distributor network in the U.S. and Canada. Eligible dealers are active in one of the following industries: printing, graphic arts, specialty advertising, business forms, packaging and shipping, signs, banners, trophies, rubber stamps, or office products. Established in 1965, Discount Labels has grown to be America's largest wholesale label supplier. Find more information at http://www.discountlabels.com and visit Discount Labels on Facebook, Twitter (@Discount_Labels) and Google+.