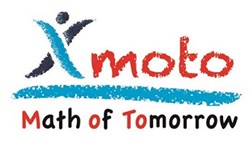 MOTO gives teachers a valuable resource that will engage all students in learning mathematics.
Reston, VA (PRWEB) August 20, 2013
Math of Tomorrow (MOTO), a new Response to Intervention (RtI) digital series for kindergarten through second grade, has been released by the National Council of Teachers of Mathematics (NCTM). Available for any Web browser and most tablet and mobile devices, MOTO comprises seven student books and a teacher website—Teacher Connect, available through NCTM's website, http://www.nctm.org/moto. The entire series is designed to meet and support the Common Core State Standards for Mathematics (CCSSM).
"NCTM is excited to launch its first digital series and take advantage of the vast opportunities and access offered through digital publications," said NCTM President Linda Gojak. "MOTO gives teachers a valuable resource that will engage all students in learning mathematics."
Developed specifically for a digital environment, MOTO encourages active learning through interactive games, puzzles, tasks, stories, videos, and songs. Working along with the MOTO family of characters, students learn mathematics by doing.
In each student book, four math friends (Addison, Mina, Split, and Multiplex) practice such essential skills as counting, adding and subtracting, telling time, classifying and naming shapes, sorting data, and much more. Students will find absorbing mathematical games that build and reinforce K–2 concepts and skills. The MOTO characters, portraying computational math symbols, play important parts in interactive stories that encourage and involve each child as he or she develops number concepts and skills. The technology allows students to practice key skills, put answers directly on the page, and receive gentle, instant feedback to those answers.
MOTO's seven student books are available in four different formats, including an iBook. MOTO's companion product, the dedicated website Teacher Connect, gives teachers access to additional resources and opportunities to connect with each student. This comprehensive tool enables teachers to track the progress of each student, comment on his or her work, and share those comments with the student. It is also an invaluable resource for effective RtI instructional strategies and additional tasks that connect math students who struggle with tools to get them back on track. Teacher Connect includes CCSSM correlations, problem extensions, instructional techniques, assessments, and downloadable activity sheets for the classroom with unlimited access to future updates and additions.
"The MOTO books and Teacher Connect were developed to engage struggling students in active learning as well as to provide resources for teachers working with students in tiers 1 and 2 of a multi-tiered support system," said co-author Barbara Dougherty, who holds an endowed chair of mathematics education at the University of Missouri. "The digital medium creates a dynamic learning environment in which students can explore mathematics as teachers track their progress and meet their individual needs."
For more information about MOTO, visit http://www.nctm.org/moto.
The National Council of Teachers of Mathematics is the public voice of mathematics education, providing vision, leadership, and professional development to support teachers in ensuring mathematics learning of the highest quality for all students. With 80,000 members and more than 200 Affiliates, NCTM is the world's largest organization dedicated to improving mathematics education in prekindergarten through grade 12. The Council's Principles and Standards for School Mathematics includes guidelines for excellence in mathematics education and issues a call for all students to engage in more challenging mathematics. Its Curriculum Focal Points for Prekindergarten through Grade 8 Mathematics identifies the most important mathematical topics for each grade level. Focus in High School Mathematics: Reasoning and Sense Making advocates practical changes to the high school mathematics curriculum to refocus learning on reasoning and sense making. NCTM is dedicated to ongoing dialogue and constructive discussion with all stakeholders about what is best for our nation's students.
Media Contact: Tracy Withrow, Communications Manager, twithrow(at)nctm(dot)org, 703-620-9840, ext. 2189.
###