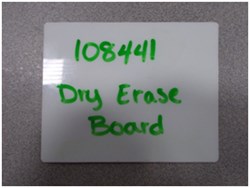 Benton City, WA (PRWEB) August 22, 2013
Rippedsheets.com has over 550 label and tag materials in stock and now because of a new mix and match system, there are even more options. With this system, two different products can be combined to make one new product.
Glow-in-the-dark Dry Erase Boards
Dry erase boards are a recent product and now they can even be made to glow in the dark. These dry erase boards are 30 mil thick and can be custom diecut to any shape or size. They can be custom printed and come with a permanent, removable, or industrial adhesive on the back. The glow-in-the-dark option is just one of many options that can be added to these dry erase boards.
Glow-in-the-dark Anti-microbial Labels
Another new product with the mix and match system is glow-in-the-dark anti-microbial labels. These labels are protected with an anti-microbial compound that eliminates the growth of bacteria. These can also be custom diecut to any shape or size as well as custom printed. Anti-microbial labels are the perfect label for clean rooms or medical equipment, and now with the new glow-in-the-dark option, they can be easily seen in a dark room.
Fluorescent Anti-microbial Labels
Fluorescent anti-microbial labels are another new product. The permanent fluorescent labels come in red, orange, green, chartreuse, and pink. The orange also comes with a removable adhesive. So, now the anti-microbial labels can be easily identified in the room because of the bright fluorescent color, and if it is necessary to also see them in the dark, then the glow-in-the-dark option can also be added.
Retro-reflective Labels with Hard Coat Liquid Laminate
Another recently added material is the retro-reflective label. These retro-reflective labels come in commercial grade, engineering grade, and diamond conspicuity. These labels direct light back at the viewer at any angle. They provide great reflection even in poor visibility conditions. These labels are flexible, printable, and weather resistant. Now these retro-reflective labels can be protected with a hard coat liquid laminate, which protects the print from being scratched off in harsh environments.
Rippedsheets.com specializes in printing custom artwork and diecutting a wide selection of materials to any shape or size. With more and more options labels can be professional and personal, and with this new mix and match system, the possibilities are endless. Visit the website or call 1-888-791-9590 for a quote or more information.