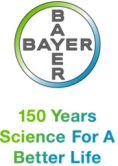 We are committed to the long-term success of canola farmers. With the addition of the three new hybrids to our portfolio, there's an InVigor hybrid to fit every farm's needs. Now farmers can take advantage of new opportunities like straight cutting.
Research Triangle Park, N.C. (PRWEB) August 21, 2013
With the addition of three new hybrids, Bayer CropScience is giving farmers three more reasons to plant InVigor® seed than just its genetics and yield. These new hybrids provide canola farmers across the northern tier of the United States more options to overcome growing and harvesting challenges, fight disease pressure, and improve profitability.
In addition to the current line of InVigor hybrids, these new hybrids listed below will be available for the 2014 growing season:
L140P – Industry's first hybrid bred to reduce pod shatter. By mitigating losses associated with pod shatter, L140P provides farmers more flexibility by maximizing yield in delayed swathing and straight cutting situations. The hybrid's built-in defense to pod shatter also reduces the impact of late-season moisture and wind events that can split pods and shell seeds prematurely, as well as make pods fall off the plant, shedding yield.
L160S – First InVigor hybrid with built-in tolerance to Sclerotinia Stem Rot. As a first line of defense against Sclerotinia, L160S is ideal for fields with known disease pressure. Sclerotinia is one of the most serious and common diseases of canola in North Dakota. The disease has caused yield losses as high as 50 percent in some fields and occurs almost every year in the state.1
By planting L160S, farmers may be able to delay or avoid a fungicide application. In seasons and fields with severe disease pressure, planting L160S can serve as a strong start to a disease management program that includes Proline® fungicide.
L252 – First InVigor hybrid with high oil content. This mid- to full-maturing hybrid offers everything farmers have come to expect from InVigor genetics – early-season vigor and outstanding yield – with premium-level oil content.
As with the existing InVigor portfolio, these three new hybrids feature superior-rated blackleg tolerance, as well as the LibertyLink® trait, which gives farmers an alternative to glyphosate-tolerant systems.
"We are committed to the long-term success of canola farmers," says Brian Hrudka, canola seed manager for Bayer CropScience. "With the addition of the three new hybrids to our portfolio, there's an InVigor hybrid to fit every farm's needs. Now farmers can take advantage of new opportunities like straight cutting."
For more information, visit bayercropscience.us.
1 "Sclerotinia of Canola," by NDSU Extension Service, June 2009.
###
Follow Bayer at @Bayer4CropsUS. Suggested Tweets:

BayerCropScience adds new #InVigor #canola hybrids, introduces new traits #aginnovation http://bit.ly/16Y7vt0
#InVigor introduces first hybrid with anti-pod shatter trait, so #NorthDakota #canola farmers can straight cut #ndag http://bit.ly/16Y7vt0
Visit the Bayer Connect - Social Hub for all Bayer CropScience social media, recent news, blog posts, videos and more.
About Bayer CropScience
Bayer is a global enterprise with core competencies in the fields of health care, agriculture and high-tech materials. This year the company is celebrating 150 years of Bayer – consistent with its mission "Bayer: Science For A Better Life". Bayer CropScience, the subgroup of Bayer AG responsible for the agricultural business, has annual sales of EUR 8,383 million (2012) and is one of the world's leading innovative crop science companies in the areas of seeds, crop protection and non-agricultural pest control. The company offers an outstanding range of products including high value seeds, innovative crop protection solutions based on chemical and biological modes of action as well as an extensive service backup for modern, sustainable agriculture. In the area of non-agricultural applications, Bayer CropScience has a broad portfolio of products and services to control pests from home and garden to forestry applications. The company has a global workforce of 20,800 and is represented in more than 120 countries. This and further news is available at: press.bayercropscience.com.
Contact:
Bayer CropScience Media Hotline, 1-877-879-6162, or
Beth Roden
Director of Communications
Bayer CropScience
Tel: (919) 549-2030
Email: beth(dot)roden(at)bayer(dot)com
Heather Koehler
AdFarm
Tel: (816) 479-5215
Email: heather(dot)koehler(at)adfarmonline(dot)com
CR0713INVIGOA060V00R0
USA-BCS-2013-0242
Find more information at bayercropscience.us.
Forward-Looking Statements
This release may contain forward-looking statements based on current assumptions and forecasts made by Bayer Group or subgroup management. Various known and unknown risks, uncertainties and other factors could lead to material differences between the actual future results, financial situation, development or performance of the company and the estimates given here. These factors include those discussed in Bayer's public reports which are available on the Bayer website at bayer.com. The company assumes no liability whatsoever to update these forward-looking statements or to conform them to future events or developments.
©2013 Bayer CropScience LP, 2 T.W. Alexander Drive, Research Triangle Park, NC 27709. Bayer, the Bayer Cross, InVigor, LibertyLink and Proline are registered trademarks of Bayer.