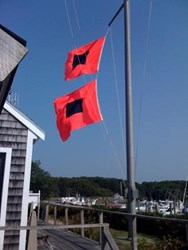 White the flag's reach is limited, when storms approach the surge is sometimes so powerful other means of communication can be lost.
Little Rock, Arkansas (PRWEB) August 21, 2013
Flag and Banner.com, a leading retail supplier of American flags and patriotic items, recently announced that hurricane flags are making a comeback after nearly two decades on the sidelines.
Kerry McCoy, owner of Flag and Banner, said that "What may seem like a step back in technology is really just one more way to protect the public. After the Katrina disaster and after Sandy last October, we all want to feel safer and to have all possible warning tools available."
"During the past thirty-nine years," McCoy said, "the length of time that I have been in the flag business, I have seen occasional purchases of U.S. Storm Signal flags, consisting of one or both of the red Gale Storm Pennant and the red and black squared Hurricane Storm Flag. But ever since Katrina, they are making a huge comeback because they really are needed."
In 1989, after 100 years of use, the Coast Guard found Storm Signal flags to be an inferior warning device compared to other technological devices such as television and radio. But today, with more storms and with what seem to be increasingly stronger storms, the Coast Guard is trying everything they can to protect coastal resident and visitors, and that includes bringing back the "Hurricane" flag.
"While the flag's reach is limited, when storms approach the surge is sometimes so powerful other means of communication can be lost. So I believe we can expect to see more of the red and black squared flags flying along the coast for residents, boaters and tourists to observe," Kerry said.
If you live in or plan to visit a coastal area during hurricane season which is June 1st and ends November 30th you may want to not only watch for these red and black warning flags but also prepare a basic emergency supply kit. An emergency supply kit infographic is available for free download from FlagandBanner.com.
The National Weather Service recommends the following:

1 gallon of water per person per day for at least 3 days
Food, at least a 3 day supply of non-perishable food
Battery or hand crank radio (A NOAA Weather Radio with tone alert and extra batteries for both is also recommended)
Flashlight and extra batteries
First aid kit
Whistle to signal for help
Dust mask, plastic sheeting and duct tape to shelter-in-place if necessary
Moist towelettes, garbage bags, plastic ties and hand sanitizer
Manual can opener
Wrench or plies to turn off utilities
The NWS also advise that if you take prescription medication, have an infant child or pets, that you should not forget to add their needs to the emergency kit. Include extra water for your pet along with their food and don't forget diapers and wipes for your infant. You may also want to include a favorite toy or two for children.
Another handy tip is to include a set of gallon size zip top plastic bags to store your important documents such as insurance policies and bank account records or even your wallet with cash.
While you may not live comfortably in the aftermath of a hurricane or other weather spawned by the storm such as tornadoes, high winds and flooding, an emergency kit can make life a little easier to bear during that time.
For more information about hurricane flags or other nautical signal flags contact one of the friendly Flag Experts at FlagandBanner.com by calling toll free 800.445.0653.