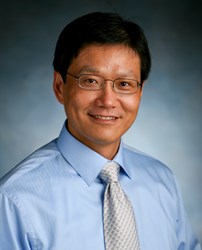 Success in our experiments could mean new therapeutic approaches to treat patients with type 1 diabetes.
Sioux Falls, SD (PRWEB) August 21, 2013
A grant from the Juvenile Research Diabetes Foundation(JDRF) will provide Sanford Research's Zhiguang Guo, MD, PhD, with nearly $500,000 to study a protein that may promote regeneration of cells in patients with juvenile (type 1) diabetes.
Guo's proposal, "Promoting human beta cell regeneration and survival by activating GPR119," will be funded for three years. Guo is a scientist with the Sanford Project, an emerging translational research center focused on targeted diabetes research, cures and care.
Using a mouse model, Guo and his team will determine if the GPR119 protein can promote the regeneration and prevent the death of beta cells when activated. Additionally, the GPR119 protein will be activated while the dipeptidyl peptidase IV (DPP-IV) enzyme, which degrades an insulin-producing hormone, is inhibited to determine if that combination also regenerates and preserves beta cells.
Individuals with type 1 diabetes lack adequate numbers of their beta cells, which are responsible for producing insulin and maintaining proper blood sugar levels.
"At the clinical onset of type 1 diabetes, patients still have a small percentage of beta cells remaining, so if we are able to increase the number of beta cells, diabetes could be reversed," said Guo. "Success in our experiments could mean new therapeutic approaches to treat patients with type 1 diabetes."
Guo's lab primarily focuses on methods to restore beta-cell numbers and function to treat type 1 diabetes.
About Sanford Research/USD
Sanford Research/USD is a non-profit research organization formed between Sanford Health and the University of South Dakota. Sanford Health is an integrated health system headquartered in Fargo, ND and Sioux Falls, SD and represents the largest, rural, not-for-profit healthcare system in the nation with a presence in 111 communities, eight states and two countries. In 2007, a transformational gift of $400 million by Denny Sanford provided for an expansion of children's and research initiatives, one of which was to find a cure for type 1 diabetes, and has given Sanford Research significant momentum in its goal of becoming one of the premiere research institutions in the United States and the world. Most recently, a subsequent gift of $100 million by Mr. Sanford has paved the way to establish Edith Sanford Breast Cancer Research.
With a team of more than 200 researchers, Sanford Research comprises several research centers, including Children's Health Research, Edith Sanford Breast Cancer, Cancer Biology, Center for Health Outcomes and Prevention, Sanford Applied Biosciences, and the National Institute for Athletic Health and Performance (NIAHP).