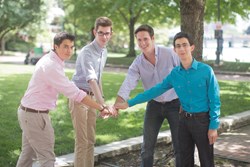 One can look at the data two ways. Either the economy is getting better and more jobs are available, or people are working more jobs because their hours were cut and they need a second job - Mike Shedlock, Market Watch
Chatsworth, CA (PRWEB) August 22, 2013
In a recent article from Market Watch of the Wall Street Journal, author Mike Shedlock reviews a Gallup survey on jobs from the beginning of 2013 and notes, "One can look at the data two ways. Either the economy is getting better and more jobs are available, or people are working more jobs because their hours were cut and they need a second job". This sentiment is echoed in an even more recent Gallup survey from July 26, 2013 when results show older Americans are more likely to hold full-time jobs now than a year ago is disproportionately reducing younger Americans' ability to obtain full-time jobs. Unfortunately, it seems the decline is continuing regardless of having a college degree. According to the Bureau of Labor Statistics, the unemployment rate was 12.6% among 20-to-24-year-olds, but only 5.6% for workers 55 and older in July of this year.
In an economy such as this where full-time employment opportunities are more difficult to obtain, many are finding new and creative ways to make ends meet. One opportunity that has expanded in the last decade is to participate in recycling programs that pay cash. These programs are outside of the typical household recycling routine of separating aluminum cans, glass, paper, etc. to the recycling of more valuable items that are also more potentially toxic to the environment. These programs are not only helping to keep dangerous e-waste out of landfills but are also creating employment opportunities. Some of the programs are able to take the recyclables and turn them into new items through a remanufacturing process where they can be resold in the market place. This is a true example of the closed-loop recycling process where the use of natural resources is heavily diminished and the cost for the end user is lowered dramatically.
These days, being conservative means more than your political party or how you spend money; being "green" is top of mind for many consumers and brands. Planet Green Recycle offers a free program for individuals, businesses, non-profits, associations, schools and more to collect and send empty or unused inkjets, cell phones and small electronics in return for payment for the value. The individuals, organizations and schools participating in this type of program are raising funds but in an earth-friendly way that they can feel good about. The program provides tools for new and ongoing participants to be successful including marketing materials, customer support and free shipping labels. Secondarily, Planet Green, a US remanufacturer of eco-friendly inkjet and toner cartridges offers an opportunity to purchase and sell the cartridges at discounted prices as well as receive an additional 15% donation of each sale made from their own unique Planet Green Recycle website.
To learn more about Planet Green Recycle, visit: planetgreenrecycle.com.
About: Planet Green is a world leading recycle fundraising program and remanufacturer of quality inkjet and toner cartridges. Since its inception in 2000, quality has been and continues to be the focal point of Planet Green's operation. The fundraising program has helped thousands of charitable organizations, schools, individuals and businesses raise over $40,000,000 and has kept thousands of tons of e-waste out of landfills.