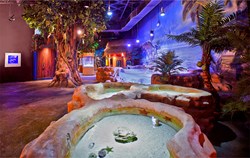 Santo Domingo, Dominican Republic (PRWEB) August 22, 2013
The aquarium features 72 exhibits in seven different themed zones, which include: Mayan Ruins, a Coral Garden maze, acrylic Shark Tunnel, interactive Submarine, traditional Dominican village and a touch tank with ray feeding pool. During the experience, guests have the opportunity to get up close and personal with the sea life, including handling various species of the ocean and also touch and feed the variety of rays and baby sharks in the ray pool. AquaMundo aims to combine education and entertainment to create an exciting learning environment for children and adults of all ages. The aquarium also features educational games and activities throughout for all to participate in. ICM has used over 18 years of experience in the industry to create a one of a kind visit for their guests at AquaMundo.
The aquarium, located in Sambil Shopping Center, is a joint-venture investment between ICM and Sambil that will help attract tourism and guests from around the country to the Dominican Republic capital city, Santo Domingo. ICM plans to take part in more investments of this kind in the near future and is looking for their next opportunity in Latin America.
ICM hopes to spread their mission for the conservation and preservation of the world's oceans and the life within. Nathan Reynolds, the Vice President of Operations at ICM commented "AquaMundo represents more than a business to our company. We hope to create awareness and get people talking about how important our oceans are and how important it is for all of us to do our part protecting it." AquaMundo regularly organizes community beach cleanups and educational programs to help spread the awareness.
ABOUT ICM:
ICM is an innovative firm that designs and builds commercial aquariums, interactive water parks, and other themed environments that inspire, educate, and entertain visitors. ICM is recognized around the world for their daring creativity, which continually push the limits of spatial, interior and exhibit designs. Many of their projects are the focal points of the most well known museums, zoos, and aquariums, as well as hotels, restaurants, and retail chains around the world.