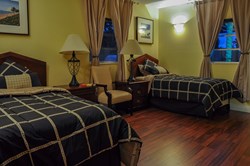 Without proper care and treatment from a certified detox facility, alcohol abuse can evolve into a serious dependency. Receive the care you need and get on the path to recovery. - Robert Niznik, Harbor Village CEO
Miami, Florida (PRWEB) August 23, 2013
As reported by Medical News Today on 8/14 in their news article titled, Male youths who are beer-drinkers binge-drink more frequently, researchers from the Institute of Social and Preventive Medicine at the University of Zurich and Lausanne University Hospital found that men who prefer beer are more likely to be binge or volume drinkers. They conducted a survey of around 5,400 men with an average age of 20.
Those who feel they are experiencing a problem with alcohol abuse should seek qualified medical help by contacting a certified detox center such as Harbor Village. At Harbor Village, a premier alcoholism treatment center located in beautiful Miami, Florida, clients can check in anonymously and receive private alcohol treatment tailored specifically to their needs. Each client enjoys a very comfortable stay in a state-of-the-art environment. Accommodations include an attractively furnished suite, 30,000 square foot outdoor lounge area, spa, salon, massage and acupuncture services, Netflix and Internet access, healthy, gourmet dining and personalized care from the attentive staff.
According to the news story, Male youths who are beer-drinkers binge-drink more frequently, just under a third of young Swiss men prefer beer when they drink alcohol, taking in at least two thirds of their alcohol consumption in the form of the beverage. Far fewer (around five percent) prefer wine.
It was also found that men who preferred beer drank much more than those who do not have a particular preference when it comes to alcoholic beverages. They exhibited behavior classified as binge drinking by consuming at least 21 alcoholic drinks a week.
There are several reasons why a preference for beer among young men correlates with higher volume drinking. "Beer is comparatively cheap, which means young people can also afford it. And beer tends to be more popular at events such as parties or concerts, where risky consumption behavior is widespread," says Meichun Mohler-Kuo, a lecturer at the Institute of Social and Preventive Medicine.
"Without proper care and treatment from a certified detox facility, alcohol abuse can evolve into a serious dependency. Receive the care you need and get on the path to recovery," said Robert Niznik, Harbor Village CEO.
For more information, visit: http://harborvillageflorida.com/ 
or call the 24/7 hotline at 1-855-338-6900.
Media Contact: 
Robert Niznik 
Harbor Village 
Miami, FL 
305-999-5728 
robert(at)harborvillageflorida(dot)com