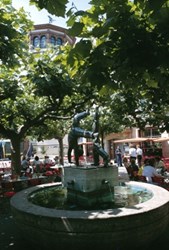 The anniversary weekend is meant to showcase the city's history, present and future in a way that entertains and connects visitors and locals.
Düsseldorf, Germany (PRWEB) August 22, 2013
The city's name means "Village on the River Düssel," but Düsseldorf stopped being a village 725 years ago. Its status quickly rose to that of city in its remarkable "career" and is now the State's capital. For its anniversary, the city's residents are throwing a party worthy of the cosmopolitan center Düsseldorf has become over the past centuries. A two-day festival on September 7 and 8, 2013 is the highlight of a year of festivities.
The anniversary weekend is meant to showcase the city's history, present and future in a way that entertains and connects visitors and locals. Three theme areas across the city center representing the different times comprise the whole event:
Past: A baroque-style historical market will be recreated in front of the city hall, inspired by two historic events: the reign of Anna Louisa de Medici from 1691 to 1716, during which Düsseldorf's trajectory as an art city began; and the French invasion at the end of the 18th century, after which the city was rebuilt splendidly on Napoleon's order. A period costume competition for visitors will add even more color to the city center that day.
Present: Just steps away from the market, on the castle square (Burgplatz) and part of the famous Rhine River Promenade, the festivities will focus on the city's present. Local organizations, associations, and many of the city's institutions will present their work in and for the city at an outdoor fair and performances.
Future: Further down on the Rhine Promenade up to Johannes-Rau-Square, visitors will get a glimpse of the city's future. Corporations and city offices and organizations will present their ideas and visions for Düsseldorf's prosperous future.
The program will be supplemented by guided city tours.
Düsseldorf's tourism office is offering hotel and city specials for the city's 725th anniversary. The travel package called "City Jubilee hotel package - 725 Years of Düsseldorf" can be booked right from the tourism office's website at http://www.duesseldorf-tourismus.de/en/hotel-packages/hotelpackage-725-jahre-duesseldorf/. Prices start at €49 per night per person based on double occupancy for a 2-3 star hotel in the city center and at €95 per person for a 4-5 star hotel. All packages include breakfast, a 90-min guided tour of the city's Old Town, a Düsseldorf Welcome Card (free public transportation within city limits, plus more than 40 free or reduced admissions to city attractions), and a city information package.
For more information on the event, please visit http://www.visitduesseldorf.de/en.
Düsseldorf Marketing & Tourism GmbH is the visitors and convention bureau of the city of Düsseldorf. Its responsibilities include tourism and city marketing, as well as conference and meeting marketing, hotel reservation services, fairs and convention services, city event ticket sales and advance ticket reservations. For more information, visit http://www.visitduesseldorf.de.
Düsseldorf Airport, Germany's Next Generation HubTM, offers several non-stop flights from US & Canadian cities (Atlanta, Chicago, Ft. Myers, Los Angeles, Miami, New York, Newark, Toronto), as well as convenient connections to many European cities. For more information about the airport, visit http://www.fly2dus.com.