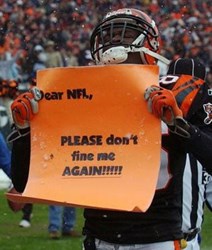 Despite the absurdity of the fines, the NFL strives to keep their community a tight knit, respectable organization where everyone is held accountable for misbehaving. To that extent, we completely understand why there are such harsh penalties...
Arlington, VA (PRWEB) August 23, 2013
Nobody enjoys walking back to their car to find a parking ticket placed on their windshield, or worse, getting pulled over and having to cash out hundreds, if not thousands of dollars for breaking traffic violations. Our favorite NFL athletes are far too familiar with being fined for ridiculous rules and violations. RG3, or, Robert Griffin III was recently fined a whopping $10,000 for wearing an Adidas shirt with the phrase "Operation Patience" on it, the second fine he's received from the NFL for apparel violation due to the leagues exclusive deal with Nike.
The NFL seems to have a laundry list of these rules and regulations that ban players from being able to dress, speak, or do certain things that may infringe upon contractual agreements the NFL has made with various companies. Every year millions of dollars worth of fines are handed out to NFL players, coaches, and teams during the season for various infractions. Some are understandably justified like unnecessary roughness, fighting during games, or substance abuse. Others are just outright ridiculous. While most of us would be fairly upset receiving a hundred dollar traffic ticket, average NFL fines are comparable to median yearly wages for many Americans.
While the average NFL player makes substantially more than the average American, the amount of these fines, and more importantly, how they come up with the dollar amount might as well be written in hieroglyphics. With clothing violations averaging around $10,000 for simply wearing the wrong shirt or hat, it begs to question why and how these infractions are calculated. There has been much criticism in regards to how the NFL fines its players and staff, and why there are so many discrepancies as far as inconsistencies with fines being given for the same violation. The most ridiculous of which was back in 2007 when Brian Urlacher of the Chicago Bears was fined $100,000 for wearing an unauthorized hat at Super Bowl media day. Same apparel violation as RG3, yet it costed Urlacher $90,000 more.
Despite how absurd the NFL's system of fines may appear, it's safe to say that the NFL has always strived to keep their community a tight knit, respectable organization where everyone is held accountable for their actions. To that extent, we could understand why there are such harsh penalties for even the most minute of infractions. But we are still left baffled as to how these fines are being regulated, and who is dictating how much it will cost a player for violating the rules, and why one player is fined much more severely than another.
Regardless, this type of drama has all but amplified fans desires to stay connected to all things NFL. The media blitz has slowly been building and centralizing around the 2013 NFL season, it's clear that we'll be seeing a lot more action both on and off the field. Fans have also been on the offensive with NFL tickets flying off the shelves in anticipation for what promises to be an incredible season.
Sources:

John Keim, ESPN.com "RG III's pregame T-shirt costly" 08/22/2013 (espn.go.com/nfl/trainingcamp13/story/_/id/9593060/robert-griffin-iii-washington-redskins-fined-10000-apparel-violation)
Zach Kruse, BleacherReport.com "The Many Inconsistencies in NFL Fines" 01/30/2013 (bleacherreport.com/articles/1507734-the-many-inconsistencies-in-nfl-fines)